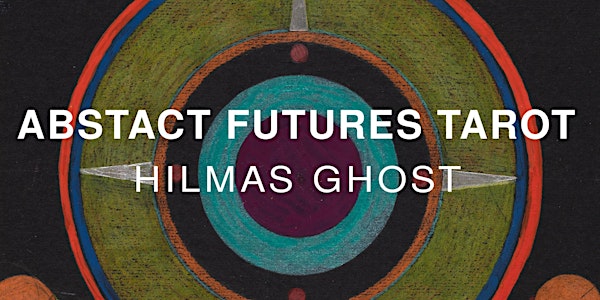 ABSTRACT FUTURES TAROT workshop with Professional Witch, Sarah Potter
ABSTRACT FUTURES TAROT workshop with Professional Witch, Sarah Potter
About this event
The second edition of the ABSTRACT FUTURES TAROT deck is here! To kickoff the launch, we will have an online workshop on Art and Tarot on the occasion of Hilma af Klint's 159th birthday!
Please join Hilma's Ghost for a conversation between the co-founders, Dannielle Tegeder and Sharmistha Ray, on Tuesday, October 26, 3.00-4.30PM, on the artistic process behind the creation of the ABSTRACT FUTURES TAROT deck, and an inside look at their collaborative process. They will also be discussing other artists who have created Tarot decks, including Salvador Dali and Leonora Carrington. Additionally, they will be joined by professional witch and Tarot Reader Sarah Potter for a discussion on the rich history of Tarot, an explanation on reading Tarot, and how to use the ABSTRACT FUTURES TAROT deck. To buy a deck, go to the following link on our website.
This session is free and open to everyone. If you have the first signed edition, please bring your deck to this virtual session. If you are ordering the second deck, then this session will help you unravel the mysteries that await you.
Sarah Potter is a Tarot reader and professional witch based in NYC. Her writing about the occult is regularly featured in Cosmopolitan, Astrology.com, Bust Magazine, and other popular outlets. Her first book, The Cosmo Tarot: The Ultimate Deck and Guidebook debuted recently.
Acting as a team, Dannielle Tegeder and Sharmistha Ray - the Brooklyn-based artists behind Hilma's Ghost - created the 78 original drawings that comprise the ABSTRACT FUTURES TAROT deck. The project in its entirety was presented by Carrie Secrist Gallery at The Armory Show in September 2021 and was included in this as one of the exhibitions to see. The exhibition was included in a review for The New York Times by Will Heinrich.
You can learn more about Hilma's Ghost by checking out our website or following us on Instagram. We regularly post about our programs and profile womxn artists working with the occult.