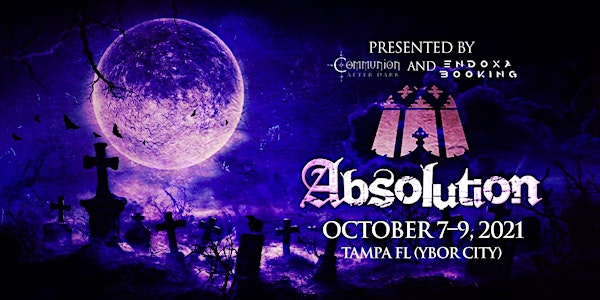 Absolution Fest 2021
UNDER 18 WITH PARENT OR LEGAL GUARDIAN
Performers
KANGA
HALLOWS, Kiss Of The Whip, Death Loves Veronica, Gulf Blvd, Cold Medicine, Curse Mackey, SINE, Riki, Bootblacks, NITE, Vision Video, Korine, Dead Cool, Astari Nite
Location
Absolution Fest
Multiple Venues
Tampa, FL
Absolution Fest 2021: A Post-Punk / Darkwave / Goth music festival across two different venues.
About this event
October 7th at Crowbar
Korine
Curse Mackey
SINE
Gulf Blvd
Cold Medicine
October 8th at Crowbar
Bootblacks
Riki
NITE
Dead Cool
Push Button Press
Tenderlash
October 9h at the Orpheum
KANGA
Astari Nite
Kiss of the Whip
Hallows
Death Loves Veronica
Vision Video
We're excited for another year of Absolution Fest! In response to our current issues with COVID-19, we are requiring masks for entry and when not drinking for all Absolution Fest 2021 events. This is something requested by artists, venues, and the organizers for this week. We appreciate everyone's effort to make this a safe event for all. Thank you!