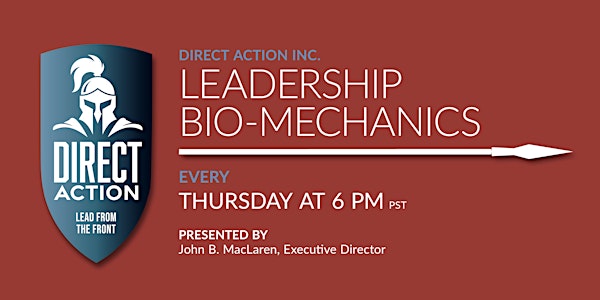 "Absolute Responsibility" - Biomechanics of Unlimited Potential
"Absolute Responsibility" Leadership Biomechanics - Releasing unlimited potential
Refund Policy
Contact the organizer to request a refund.
Eventbrite's fee is nonrefundable.
About this event
This truly amazing experiential course builds on itself each week, so please make every effort to attend each week. The positive effects will multiply exponentially as the information blends into your life after each discussion. That said, ANY attendance is better than none, and "maybe next time" is a "quitting" method our brain uses to keep obstacles in the way of our personal progression.
The constantly evolving course includes instruction and virtual hands-on experience in the following areas:
The pathway of negative emotions.
Why are we hardwired for negativity?
Why we argue and how to minimize that in your life.
How do we train our brains to think critically and develop positive behaviors?
What is anxiety? Why fear and anxiety are "default" settings.
Train your brain for high-level awareness and creativity.
Navigating anxiety and depression and turning them into enthusiasm.
The fear of failure myth why success and failure myths limit your potential.
Develop confidence among strangers.
Understand how to overcome fears and embrace new environments.
Critical and creative thinking development.
Confirmation bias and leadership.
Advanced attention to detail skills.
Overcoming Anger and frustration.
How to increase creativity and problem-solving ability.
How to observe details that others miss.
How to think critically and be positive.
Consistent and straightforward leadership growth techniques.
Leadership strategies of C-level executives and Elite Special Forces.
Please bring the following:
Your camera and mic.
Your enthusiasm and focus.
Your willingness to make your life more amazing and work harder than ever before on helping others do the same!
Change your life and lead from the front in a way you never realized was possible!
Respectfully,
Coach Mac - www.directaction.us