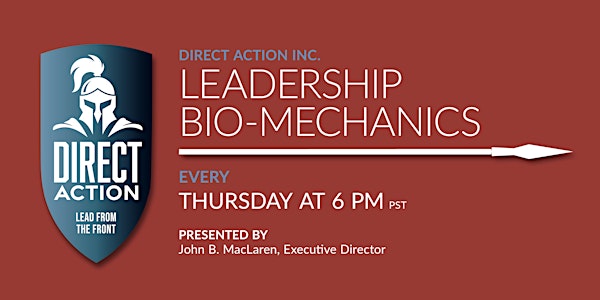 Multiple dates
"Absolute Responsibility" - Biomechanics of Unlimited Potential
"Absolute Responsibility" Leadership Biomechanics - Releasing unlimited potential
By Coach Mac - Navy SEAL candidate & civilian mentor
Date and time
September 8, 2020 · 3pm - April 6 · 7:15pm PDT
Refund Policy
Contact the organizer to request a refund.
Eventbrite's fee is nonrefundable.
About this event
This truly amazing experiential course builds on itself each week, so please make every effort to attend each week. The positive effects will multiply exponentially as the information blends into your life after each discussion. That said, ANY attendance is better than none, and "maybe next time" is a "quitting" method our brain uses to keep obstacles in the way of our personal progression.
The constantly evolving course includes instruction and virtual hands-on experience in the following areas:
The pathway of negative emotions.
Why are we hardwired for negativity?
Why we argue and how to minimize that in your life.
How do we train our brains to think critically and develop positive behaviors?
What is anxiety? Why fear and anxiety are "default" settings.
Train your brain for high-level awareness and creativity.
Navigating anxiety and depression and turning them into enthusiasm.
The fear of failure myth why success and failure myths limit your potential.
Develop confidence among strangers.
Understand how to overcome fears and embrace new environments.
Critical and creative thinking development.
Confirmation bias and leadership.
Advanced attention to detail skills.
Overcoming Anger and frustration.
How to increase creativity and problem-solving ability.
How to observe details that others miss.
How to think critically and be positive.
Consistent and straightforward leadership growth techniques.
Leadership strategies of C-level executives and Elite Special Forces.
Please bring the following:
Your camera and mic.
Your enthusiasm and focus.
Your willingness to make your life more amazing and work harder than ever before on helping others do the same!
Change your life and lead from the front in a way you never realized was possible!
Respectfully,
Coach Mac - www.directaction.us
About the organizer
Coach Mac has spent the past 36 years working in the United States and around the globe. First as a U.S. Navy Cryptologist and then as a U.S. Navy SEAL in direct action anti and counter-terrorism work and then, after active duty, as a private contractor and business owner specializing in hostage rescue (CQC), threat assessment, pedophile prevention, and reporting, fugitive and trafficked persons retrieval, weapons and tactics instructor, range safety officer, safety diver, and combat swimming instructor.
Coach Mac is the lead mentor/instructor and National Director for the Eagle One Navy SEAL Candidate program. Team Eagle One, a diversity program that boasts the highest success rate of any Navy SEAL candidate training program in the country. He is also the Executive Director at the Sikh American Institute at Berkeley.  The institute, a pipeline to Ivy League-level educational institutions, develops Sikh students to their highest academic and professional potential.  
Coach Mac delivers security, safety, and leadership, seminars around the country. He maintains a cutting edge understanding of threat assessment and violence prevention and response plan implementation, passive & active lockdown techniques, and responses to active shooter scenarios. Each prevention and response system is tailored to fit your environment and your staff abilities. In addition to being a certified violence prevention specialist, which includes rape and domestic abuse prevention and sexual assault prevention and reporting for minors.
He continues to instruct active-duty special ops military personnel in these same areas as well as give classes in domestic abuse prevention to military personnel. Coach Mac brings to the table an unusually advanced understanding of threat assessment, violence prevention response options, executive protection and abuse prevention, and security team leadership that he customizes to fit almost invisibly into your professional, educational, or religious environment.
Additionally Coach Mac trains and mentors Navy SEAL Candidates as well as other Special warfare program candidates and Active Duty Members. He also works with civilians in the areas of:
Performance Fitness at every level, BioMechanics, Nutrition, and Elite Performance Training for Athletes, Professionals, and Military Special Warfare Candidates.
Thank you for your interest and your effort. Lead from the front.