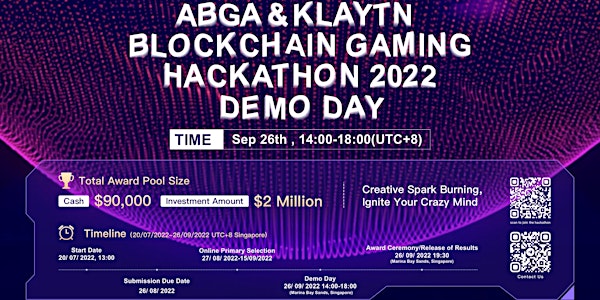 ABGA&Klaytn BLOCKCHAIN GAMING HACKATHON 2022 DEMO DAY
The final 8 winning teams will present their proud achievements on ABGA & Klaytn BLOCKCHAIN GAMING HACKATHON DEMO-DAY
When and where
Location
Marina Bay Sands Expo & Convention Centre 3rd floor Heliconia Junior 10 Bayfront Avenue Singapore, 018956 Singapore
About this event
"We believe that Blockchain Gaming is a track that can bring fresh blood and vitality to the crypto world, and has the ability to detonate the next round of cyclical prosperity. More and more traditional game developers and companies are paying attention and have begun to deploy Blockchain Gaming. At the same time, more and more traditional players are attracted by imaginative new game modes. Blockchain Gaming is not only about GameFi and P2E, perhaps, a new Blockchain Gaming model is brewing.
TOP 8 teams stands out from previous hackathon round and will be invited to attend the final competition on demo day!
Hackathon Prize & Project Support
This hackathon will select five types of awards, a total of 8 slots. The first, second, and third prizes and special awards will be determined based on participating teams' scores. The prize pool includes $90,000 in cash ,$2 Million in investment and AWS credits plus bonus .
Total Award Pool Size: Cash $90,000 + Investment Amount $2 Million
1. Total Award Pool Size: Cash $90,000
Top Winner: $20,000 (1 slot)
Second Tier:$12,000 (2 slots)
Third Tier: $8,000 (3 slots)
ABGA Choice Award: $6,000 (1 slot)
Klaytn Choice Award:$6,000 (1 slot)
Encourage Award: $10,000 (for top 16 teams who willing to deploy on klaytn)
2. Investment Rewards: $2 Million
The 10 winning teams will have the opportunity to receive an investment amount of $2 Million from ABGA members and other investors.
3. Excellent Publicity Exposure Opportunity
The 10 finalist teams will be invited to participate in the Blockchain Gaming 2022 Summit held by ABGA on September 26-27 at the Marina Bay Sands, Singapore, during the Asia Crypto Week period.
September 26th will be the hackathon's offline Demo Day and Award Ceremony. ABGA will invite around 300 top institutions' representatives and investors to participate.
*Asia Crypto Week is a week of various independently organized side events around TOKEN2049 Singapore, from September 26th to October 2nd 2022.
4. Klaytn Ecosystem Support
(1) Invitation to be listed as Klaytn's community projects
- (For both startup and non-startup teams) - Winners' projects will be listed as community projects in aspects of the Klaytn Gaming ecosystem.
(2) Introduction to Krust Incubation Programme
- (ONLY for startup teams) - The startup entity of the winners' projects will be selected and introduced to Krust Incubation Programme when it is up and running. The selected startups could be included in the genesis cohort of the Krust incubation programme.
- Krust incubation program projects will be served with core consulting, including business modeling, tokenomics advisory, legal & finance advisory and co-marketing opportunities with Klaytn Foundation. There also will be chances to be closely connected with Klaytn Eco funds and global VCs via Demo day.
(3) Introduction to Krust Investment Programme
- (ONLY for startup teams) - If the selected startup is too potential or mature to be considered for the Krust Incubation Programme, they will be invited to be considered for the Krust Investment Programme for major investment opportunities.
(4) KGF/KIR Grant Support
- (For both startup and non-startup teams) - Depending on the nature of winners' projects and the preference of hackathon winners on whether they would like to maintain or industrialize the hackathon projects, and in case there are not interested in participating in incubator programmes we offered, these potential winners' projects could be recommended to our KGF grant process so as to be financially supported by the foundation to keep building on Klaytn ecosystem.
5. ABGA Ecosystem Support
ABGA is an alliance focused on the Blockchain Gaming ecosystem. It has in-depth cooperation with more than 50+ top institutions, has supported the development of many early projects, and has the support of high-quality communities and media from Asia. All members and partners of the ABGA & Klaytn ecosystem will help the participating teams obtain various resource docking, media exposure, and project guidance and acceleration.
6.AWS Credits PLUS bonus
We hope to help and stimulate the development of the Blockchain Gaming ecosystem through the selection of the hackathon focusing on the Blockchain Gaming track, and discover truly potential Blockchain Gaming ecological projects. Invest in the Blockchain Gaming of the future!"