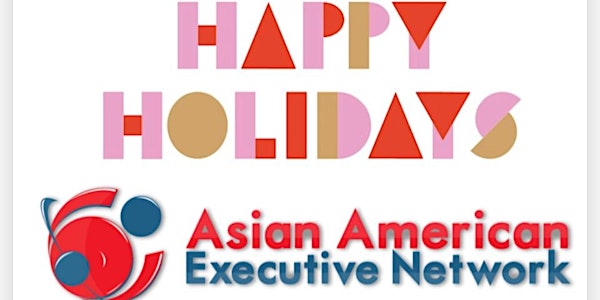 AAEN Holiday Happy Hours and Networking Event
Live from Rosemont IL...Join us to celebrate the 2022 Holiday Season with your fellow Asian American Executives and Advocates.
When and where
Location
Hyatt Regency O'Hare Chicago 9300 West Bryn Mawr Avenue Rosemont, IL 60018
About this event
Live from Rosemont, IL ...Happy Holidays!!
After a 2-year absence, we are back to celebrate the Holiday Season in person.
This has been a wonderful tradition for the Asian American Executive Network since 2013. We held virtual celebration during the Pandemic years in 2020 and 2021. In 2022, we will be co-hosting with the Asian American Coalition of Chicago (AACC).
This networking event is self-sponsored. To cover the cost of the event, please purchase a ticket for yourself and your guests. $35 online and $45 at the door - please bring CASH if paying at door.
Limited availability. First come first served. Please register only if you are committed to attend.
All proceeds will be used to cover the expense of the networking event. All extra $ will be donated to the Asian American Coalition of Chicago - a 501c3 for the planning the 2023 Lunar New Year celebration on 2/18/2023. See www.aacchicago.org
The Asian American Executive Network will be co-hosting the Business Forum for Asian American Small Businesses from 1:00 – 4:00 pm ahead of the Gala on 2/18/2023.
Free Parking - validation required - available on-site. Business Causal suggested.
Sincerely,
George & Doug
p.s. You are welcome to stay for the 2023 Lunar New Year celebration planning at 7pm same room. We are always looking for more volunteers.
George MuiFounder & ModeratorAsian American Executive Network
Doug Nguyen Co-Chair 2023 AACC Lunar New Year Celebration.
___
Agenda
Open Networking – 15 mins
National Anthem
Welcoming remarks – 15 mins
Holiday Entertainment – 10 mins
Group Recognition – 15 mins
Closing remarks & Large group Networking