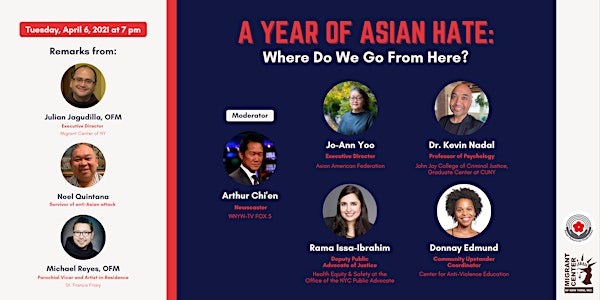 A Year of Asian Hate: Where Do We Go From Here?
Hear about why anti-Asian violence is happening now and what we can do to address it
About this event
In the midst of daily assaults against Asian Americans, it is critical that we understand why this violence is happening now so we can find solutions to reduce the violence.
Join the Asian American Federation and the Migrant Center for a discussion with community leaders about the factors that have contributed to the surge in attacks against Asian Americans and tangible ways we can create both immediate and long-term safety for Asian community members.
Speakers:
Opening remarks by Julian Jagudilla, OFM and Executive Director of the Migrant Center of NY
Prelude by Noel Quintana, survivor of anti-Asian attack
Jo-Ann Yoo, Executive Director, Asian American Federation
Dr. Kevin Nadal, Professor of Psychology, John Jay College of Criminal Justice, Graduate Center at CUNY
Rama Issa-Ibrahim, Deputy Public Advocate of Justice, Health Equity & Safety at the Office of the New York City Public Advocate
Donnay Edmund, Community Upstander Coordinator, Center for Anti-Violence Education
Benediction by Michael Reyes, OFM, Parochial Vicar and Artist-in-Residence, St. Francis Friary
The discussion will be moderated by Arthur Chi'en, a three-time Emmy Award-winning newscaster, currently with WNYW-TV FOX 5 in New York.
Notice: This Zoom Webinar has a capacity of 500 attendees. If capacity is reached and you join the webinar, you will receive a message from Zoom that will redirect you to our Facebook livestream. Alternatively, you can access our livestream of this event at: https://www.facebook.com/AsianAmericanFederation