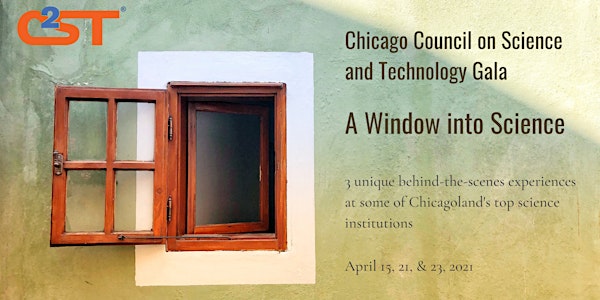 A Window Into Science 2021
Support science education and join us for 3 unique behind-the-scenes tours with some of Chicagoland's top science institutions.
Refund Policy
Contact the organizer to request a refund.
Eventbrite's fee is nonrefundable.
About this event
You are cordially invited to "A Window Into Science!"
C2ST is excited to offer three unique behind-the-scenes experiences at Chicagoland's top science institutions. Have you been missing events and discovering what Chicago has to offer? These events are fully safe, fully online, and fully interactive. Take a break from your digital meetings and schoolwork with this opportunity to explore unique collections from Chicago's top institutions safely from home. Guests will meet guides and curators from Argonne, the Field Museum, and MSI and will be able to ask questions and further explore the exhibits at the end of the guided tours.
EVENT FEATURES
• Tour the Argonne National Laboratory, The Field Museum, and the Museum of Science and Industry
• Live virtual Q&A with experts on the future, history, and pre-history of science
• Virtual networking event with leaders in Chicago's science and tech community
• 2021 Science in the City Award Award Winners will be announced
EVENT DETAILS
Future of Science tour with Argonne National Lab
4 pm CST, April 15th, 2021
Visit two mind-blowing facilities at the world-famous Argonne National Laboratory. First, we'll take a virtual walk through Advanced Materials Manufacturing where advances are being made in the areas of energy storage, battery technology, and lithium-ion recycling solutions. After that, we'll tour the Smart Energy Plaza and see a host of new LEED-certified campus additions, each of them, in their own way, paving the road toward the future of responsible and efficient energy usage.
Pre-History tour with the Field Museum
4 pm CST, April 21st, 2021
At the Field Museum, we'll join William Simpson (Head of Geological Collections; Collections Manager, Fossil Vertebrates) and Lance Grande (Distinguished Service Curator) for a three-part tour with a focus on everyone's favorite subject: DINOSAURS. After traipsing through the main exhibit hall, we'll experience the world of SUE the T. rex, the Field's famous fossil with a big personality. After that, it's off to the collection range!
History of Science tour with MSI
4 pm CST, April 23rd, 2021
Kathleen McCarthy is the director of collections and head curator at the Museum of Science and Industry. McCarthy is responsible for the care of MSI's 35,000 artifacts, as well as the research and development of content for exhibits. We'll join her on a special tour of MSI's upstairs collections of historic science artifacts, such as the "most dangerous toy in the world!"
Networking Event:
6 pm CST, April 23rd, 2021
One of the most challenging aspects of the last year has been the inability for folks to get together in person. This has obviously made networking, in the STEM field(s) and elsewhere, quite difficult. We'd like to offer a venue for STEM professionals and enthusiasts to get together to talk shop, so as an added bonus to any ticket selection from the above items, you will automatically be invited to our networking event and award ceremony.
***
Under the U.S. Department of Energy (DOE)'s guidance governing unclassified foreign visits and assignments, including virtual, all DOE facilities are required to document the visits and assignments of foreign nationals who are citizens of or were born in countries other than the United States.
If you are not a U.S. citizen, please register here using your name as it appears on your photo I.D. On the form, for the field "Visit or Assignment Reason", please select "Tour". There is an approval process that may take up to five to seven business days, so please register as soon as possible. You will also need to provide copies of your INS documents, such as permanent resident card or passport, visa and any supporting documents, if applicable. These documents can be uploaded directly in the visitor registration form. If you have any questions regarding registering non-U.S. citizens, reach out to Pat Boley (pboley@anl.gov).
***
To sponsor this event please visit this site.
Can't make it to the event? You can still contribute to our mission here.
This event is presented to you in collaboration with: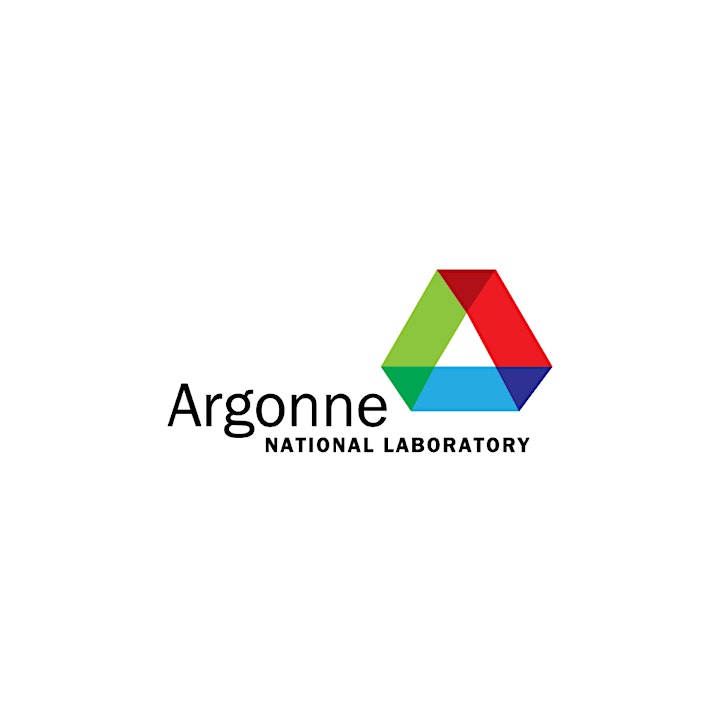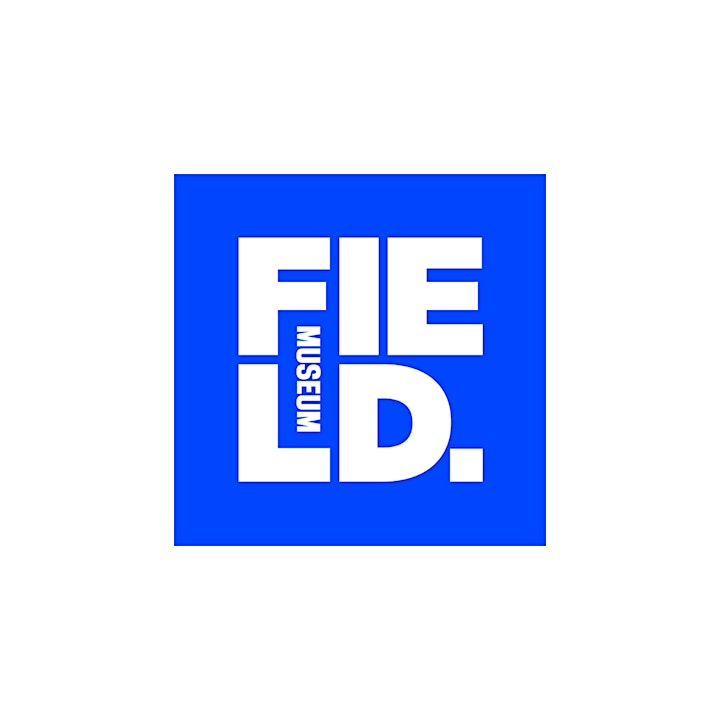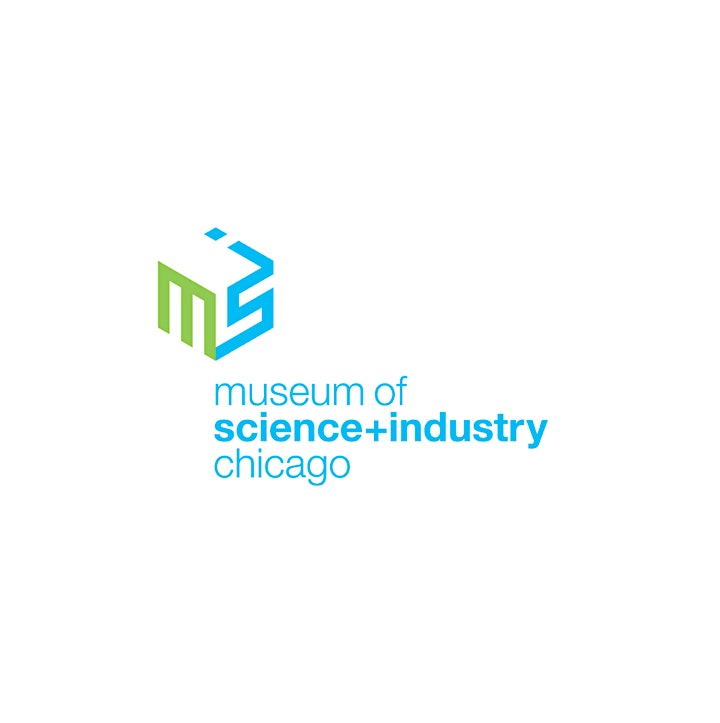 Featured Guests
Lifetime Achievement Awardee- Dr. Edmundo J. Garcia-Solis
Dr. Edmundo Garcia-Solis is a Professor of Physics and Department Chair of Chemistry, Physics and Engineering Studies at Chicago State University. During the academic years 2016 and 2017 Dr. Garcia-Solis served as Program Director of the Experimental Nuclear Physics Program at the National Science Foundation. Garcia-Solis has worked in nuclear structure physics and intermediate energy heavy ion physics. Garcia-Solis's research in high-energy nuclear physics and archaeometry is supported by awards from the NSF. He is a member of the American Physical Society, where he served as chair of The Committee of Minorities in Physics, and he is on the board of the National Society of Hispanic Physicists.  Garcia-Solis is the SPS advisor at his University, and he is one of the QuarkNet mentors of the Chicago area.
Covid Response Awardee- Dr. Jonathan Ozik
Dr. Jonathan Ozik is a computational scientist at Argonne National Laboratory; Senior Scientist in the Consortium for Advanced Science and Engineering at the University of Chicago, with a Public Health Sciences affiliation; and Senior Institute Fellow in the Northwestern Argonne Institute of Science and Engineering. For the past year, Dr. Ozik has been dedicated to forecasting the spread of COVID-19 in the Chicago area using data-driven science, state-of-the-art machine learning and high-performance computing methods. This work informs local decision makers on the effects of possible interventions to mitigate the effects of the COVID-19 pandemic. Dr. Ozik and a large multi-institutional collaboration developed and applied the Argonne CityCOVID model since March of 2020 to inform public health officials at the Chicago Department of Public Health, Cook County Department of Public Health, and the Illinois Department of Public Health (as a member of the Illinois Governor's COVID-19 Modeling Task Force). Dr. Ozik leads open-source scientific computing software projects (Repast, EMEWS) and applies them to modeling infectious diseases, healthcare interventions, biological systems, and other complex systems. 
A Window into Science Sponsors:
Molecular Movers
Elemental Energizers
Argonne National Lab
Walder Foundation
DePaul University
Bob and Susan Arthur
Atomic Architects
Josephy & Bessie Feinberg Foundation
Particular Promoter
Robert Schriesheim
Bob Kriss and Laura Schriesheim
Mayer Brown LLP
John A. Cable Foundation
Museum of Science and Industry