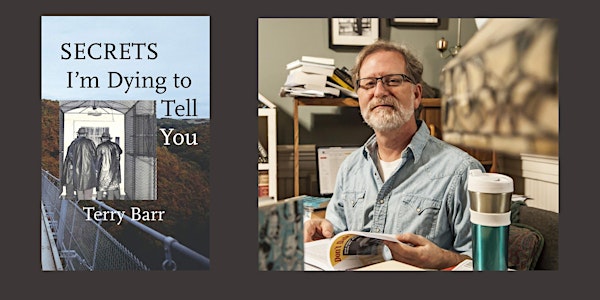 A Virtual Conversation with Terry Barr
Join us virtually with local author Terry Barr to discuss his essay collection, "Secrets I'm Dying to Tell You," on August 17th at 7PM!
Refund Policy
Contact the organizer to request a refund.
Eventbrite's fee is nonrefundable.
About this event
We are pleased to welcome local author Terry Barr for a virtual conversation on Tuesday, August 17th, at 7PM! We will be discussing his newest essay collection, Secrets I'm Dying to Tell You, which focuses on his hometown of Bessemer, Alabama. Join us for a great discussion with this Southern Gothic author as we talk about history, secrets, and why it's important to remember.
. . .
Secrets I'm Dying to Tell You
by Terry Barr
Secrets I'm Dying to Tell You explores author Terry Barr's life in Bessemer, Alabama, a suburb of Birmingham. The related essays reveal secrets about Bessemer, his family, and some of his most intimate friends and acquaintances, many of whom were victims of abuse.
Beginning with his mother's #MeToo stories, which were the impetus for this CNF collection, Barr began reconsidering the other stories he had heard or read about Bessemer's dark past—its embrace of the Ku Klux Klan, and its ongoing debilitating relation to Race. He also considered his own family background: the disloyalty he felt toward some family members because of their recklessness, their selfishness, their way of putting their own desires before the safety and well-being of those they should have been caring for.
Finally, the secrets he ends with focus on the last part of his mother's life and how he tried to reconcile himself to loving and accepting her world, which he discovered was a world that he could still learn from, despite the belief that he was far more progressive than she ever was. Secrets can harm us, and though their revelation hurts, the only way we can heal is through such revelation and admission of our own part in the secret past.
Terry Barr is a professor of English and Creative Writing at Presbyterian College in Clinton, S.C., and the author of Don't Date Baptists and Other Warnings from my Alabama Mother, a collection of nonfiction essays centered on his hometown of Bessemer, Alabama. His essays have been published in such journals as The Museum of Americana, Blue Lyra Review, Steel Toe Review, Belle Reve Literary Journal, and South Writ Large, amongst many others. His essay "A Big-Ass Pot of Blended Soup" was nominated by Red Truck Review for the Best of the Net Award in 2015. He lives in Greenville, S.C., with his wife, two daughters, and their beloved pets, Morgan and Max (the Carolina Wild Dog).