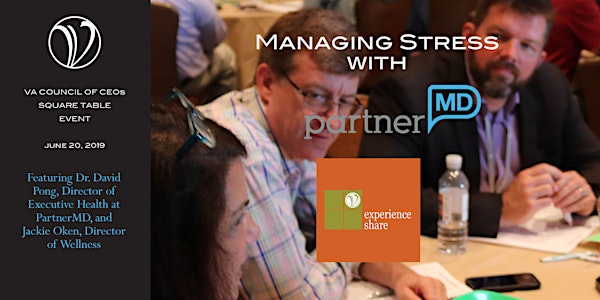 A VACEOs Square Table: Managing Stress with PartnerMD
When and where
Location
PartnerMD 7001 Forest Ave. Ste. (1st fl. Wellness Room) Richmond, VA 23230
Description
Stress is everywhere in our lives today. So learning how to manage what is causing our stress and our reactions to it is paramount in today's world. Understanding what stress is and having the tools to cope with day-to-day demands will help you better manage your health, happiness and overall quality of life both now and years from now.
Join Dr. David Pong, Director of Executive Health at PartnerMD, and Jackie Oken, Director of Wellness for a lunchtime squaretable that will help you better understand the good and bad side of stress (there is some good), discuss the symptoms and effects of stress in your life (it may be worse than you think), and learn immediate and tangible ways to manage your reaction to stress even when you can't change the cause of it.
Enjoy a healthy lunch and leave with your own personal plan for a healthier lifestyle that will help you better control stress and become more mindful of your reactions and activities in your day-to-day routine.
Host and presenter:
PartnerMD https://www.partnermd.com/

About VACEOS Square Table events:
Ad hoc peer learning in small groups
For VACEOs members and sponsors only
VACEOs Safe Haven culture applies. Host will set confidentiality level.

Any member or sponsor can propose an event
Topic, meeting format, etc. determined by the host
Free to participants. Host may provide a meal
No-show fee of $25 for cancels within 24 hours or no-shows
Learn more about how Square Table events work, and how you can propose one here