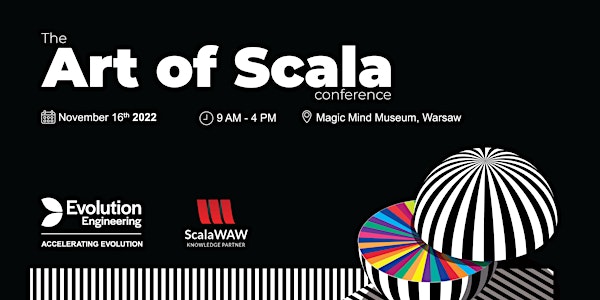 A unique conference for Scala engineers and enthusiasts
The second edition of the one and only non-commercial conference organized by Scala enthusiasts for Scala engineers.
When and where
Location
Magic Mind Museum Plac Konesera 03-736 Warszawa Poland
About this event
After the first event's success (in May this year), the conference intended to gather Scala engineers and enthusiasts is back!
This unique conference, as already usual, is organized by the ScalaWAW community and Evolution Engineering.
As coding in Scala can sometimes be like magic; therefore we found a suitable place for it. We invite all Scala engineers and enthusiasts (Java programmers interested in Scala too!) to Magic Mind Museum, located in a fashionable Centrum Praskie Koneser. In breaks from lectures, you can experience different magic and famous illusion tricks by yourself. And in lunch break – a surprise.
As various research has proven, human brains use vast amounts of energy. Therefore we prepared for participants tasty catering.
The number of seats is limited to 50; therefore, don't wait till it's too late. Book your place even now! Instead of tickets, we will ask participants for donations to Polish Humanitarian Action "SOS for Ukraine".
We are happy that our conference is being supported by the famous magazine for developers Magazyn Programista and London-based technology recruitment agency UMATR
Due to the limited number of seats, we reserve the right to verify registrations.
Agenda:
Explicit about implicit: "Ad hoc" polymorphism and type-classes - Adam Rozenek (Scala Backend Developer @ Iterators)
Easy Type Class derivation with Scala 3 - Marcin Kustra (Backend Developer @ Evolution Engineering)
The Original Sin of Scala Ecosystems - Mateusz Kubuszok (Senior Software Engineer @ SwissBorg)
Bare metal on JVM - Jarosław Pałka (Staff Software Engineer @ Neo4j)
How to make a design language from graphs programmatically - Oleg Nizhnikov (Backend Developer @ Evolution Engineering)
Things I didn't want to know about JVM bytecode but learned anyway - Jakub Kozłowski (Independent contractor)
Efficient type safety in Spark - Michał Pałka (Senior Scala Developer @ VirtusLab)
Love, hate and workflows - Wojciech Pituła (Senior Software Engineer @ SwissBorg)