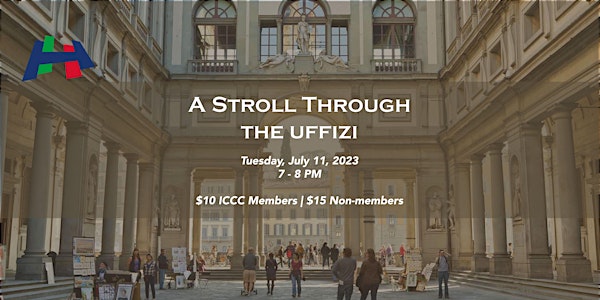 A Stroll Through the Uffizi
Presented by Douglas Erwing.
By Italian Cultural & Community Center
Date and time
Tuesday, July 11 · 7 - 8pm CDT
Location
ICCC Houston 1101 Milford St Houston, TX 77006
About this event
Take a stroll through the Uffizi Gallery! This will be an accessible, high energy, edutainment talk about ten famous paintings at the Uffizi Gallery. We will discuss artworks by Giotto, Botticelli, da Fabriano, Titian, Van der Goes, Leonardo, Michelangelo, and Raphael.
In this talk, Douglas Erwing will go over some art fundamentals to help the audience understand the works, while also stressing their beauty and religious nature of the culture that produced them. Erwing will discuss the artists, analyze the paintings, and tell interesting stories about the people illustrated in them. The talks are grounded in academic literature and art appreciation, but Erwing avoids getting academic. This material is for a curious art admirer who wants to learn more but isn't interested in getting bogged down with academic jargon.
For some, this is the beginning of a love affair with Italian culture, including wine, food, and a vacation to Tuscany. For those who have traveled to Florence and seen these paintings, this is a deeper dive into the artworks.
About the presenter:
Douglas Erwing practiced real estate law. He owned and operated title insurance companies for 25 years and spent the last 13 of those years also teaching at the University of Houston (UH) Honors College. He taught a variety of subjects, including surveys of American history, law-related classes on the Constitution, early American legal history, and civil rights in America. Erwing was a Mellon Fellow. He has a J.D. and Ph.D. in Early American Legal History.
During the past seven years, Erwing was a full-time instructor at the Honors College. In addition to teaching, he was also the Director of the Bonner Leaders Program, a leadership program focused on fighting poverty in a number of communities in Houston. Erwing has won a number of awards for teaching and service. Erwing's passion outside of early American history is Italian Renaissance art. He has co-led trips to Florence from the Honors College. On these trips, he guides walks through art galleries and talks to students, alumni, and international visitors.
"A visit with me in Florence is one of the recommended stops for UH Honors students travelling to Europe," Erwing said. "My wife and I can be found a few months out of the year in Florence on art scavenger hunts, giving tours, and adding to our knowledge of art, architecture, food, and wine."
Date: Tuesday, July 11, 2023
Time: 7:00 - 8:00 PM
Price: $10 ICCC Members and $15 Non-members
-
By purchasing a ticket to this event, you acknowledge the following: I understand that I am holding a spot so reservations for this event are nonrefundable. If I am unable to attend, I understand that I can transfer to a friend.
-
Click here to become a member of the Italian Cultural & Community Center of Houston.
About the organizer
Experience Italy in the heart of Houston, Texas. The Italian Cultural & Community Center's mission is to advance, celebrate and preserve Italian culture and heritage through educational, cultural and social offerings for everyone: those of Italian descent, Italian expatriates living in Houston and Italophiles, non-Italians who are interested in Italy and its culture. It is our vision to be recognized as the Houston destination for all things Italian. The Italian Cultural & Community Center of Houston is a 501(c)(3) nonprofit organization.