Description
Love the sound of the steel pan? Here's your chance to learn how to play this iconic instrument of Trinidad.
The PanTones, an award-winning adult community steel band, is offering this workshop for beginners. We'll provide the instruments, teach you the technique for playing them, tell you a little bit about the historical and cultural background of the steel drum, and have everyone playing a couple of songs by the end of the afternoon.
No prior musical experience required. And, if you're captivated by playing the pan, we can offer you the opportunity to become part of our ensemble - three members of the group are graduates of the workshop.
This workshop is back due to popular demand, and it will sell out! The Edgewood Arts Building is right outside the Brookland Metro station and has parking available.
Feel free to email any questions or comments to PantonesBand@gmail.com.
Check out video footage from our last workshop here!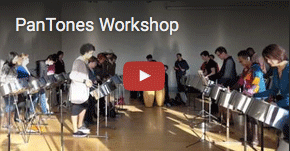 Update: This workshop has sold out, but you can join the waitlist for this workshop and future workshops by clicking "Get Tickets" and then "Join Waitlist," or by emailing PanTonesBand@gmail.com.