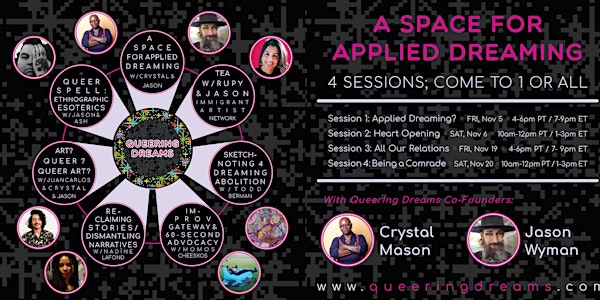 A Space for Applied Dreaming: What is Applied Dreaming?
Session 1 of 4: Queering Dreams Co-Founders Crystal Mason & Jason Wyman hold a space & time to practice communal, applied dreaming.
Refund Policy
Contact the organizer to request a refund.
Eventbrite's fee is nonrefundable.
About this event
Dreaming in public and in community is a powerful act. It is a pathway to thinking deeply and creatively about what a new world might look like, what we might look like doing the work of creating anti-oppressive selves, institutions & ways of being. - Crystal Mason
What is Applied Dreaming? Queering Dreams Applied Dreaming Praxis has been developed over the last six years through a combination of personal & collective practice & builds on over 50 years of combined experience in community-expanding, intergenerational, co-creative praxis. It is a methodology of holding space & time to communally dream, share our dreams, and move our dreams into reality through articulating possible actions & making commitments to act.
In A Space for Dreaming: What is Applied Dreaming (Part 1 of 4), Co-Founders Crystal Mason & Jason Wyman hold a space & time for comrades to come practice communal, applied dreaming. We'll seed our dreams with the question, "How might you apply dreaming?" We will then hold space to dream & time to reflect. We'll bring everyone together in circle and those who desire to share with each other can. As we close, comrades will be invited to share ways they can apply dreaming in their own life, practice, community / communities.
Comrades are welcome to come to one, some, or even all four of our A Space for Applied Dreaming Sessions. If you attend all four, you will feel more adept at our Applied Dreaming Praxis, and you will have concrete ways you can apply it to opening your heart & possibilities, noticing all of your relations, and articulating what it means to be and how to find them.
Additional Sessions are:
Saturday, November 6, 2021 (10am to 12pm PT / 1pm to 3pm ET): How do you open your heart to possibilities?
Friday, November 19, 2021 (4pm to 6pm PT / 7pm to 9pm ET): How can we better notice all our relations?
Saturday, November 20, 2021 (10am to 12pm PT / 1pm to 3pm ET): What does it mean to be a Comrade?
This workshop qualifies as professional development. Depending on your locality, organization, or business, there may be professional development funds available. We are happy to provide a Letter of Support or other documentation necessary to more easily access any of those funds.
This event is a part of the Queering Dreams November Calendar of Events! To learn more about Queering Dreams visit: www.queeringdreams.com.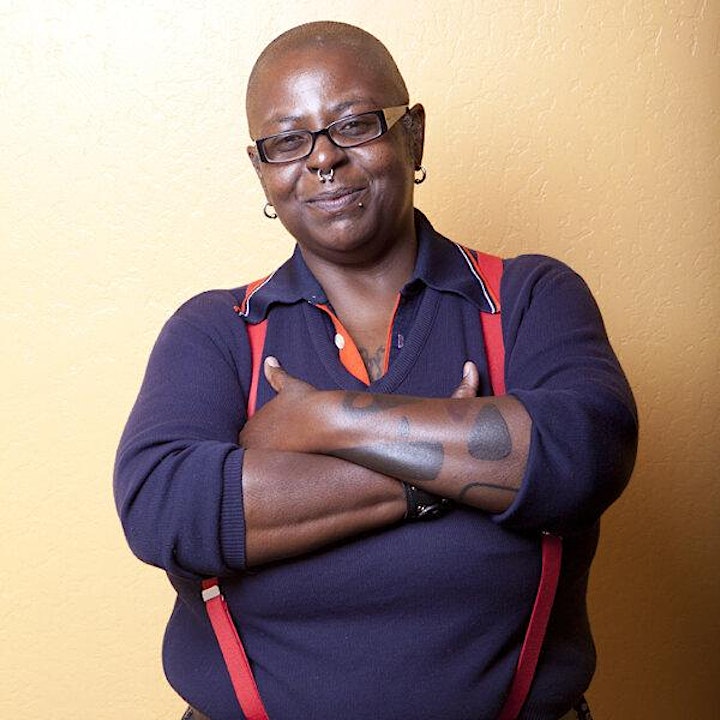 Crystal Mason was formerly Co-Director of Queer Rebels and a board member since 2012. Crystal also co-founded Luna Sea Women's Performance Space and was Executive Director of the Jon Sims Center for the Arts. In Berlin, where they lived for 9 years, they co-owned Schoko Café, a women's art and culture center. In San Francisco, they were an organizer working with ACT UP and the San Francisco AIDS Foundation, and also worked on Electric City Queer TV. Recently, they co-produced the multimedia theater piece Hey, Sailor and created 3 short films: In My Blood, I Know My Soul, and In My Own Hands. In 2016 they created a multimedia performance/installation at Fort Mason as part of the THIS IS WHAT I WANT Festival 2016 titles There is No Other, Fractured And Complete, Tell Me Something True.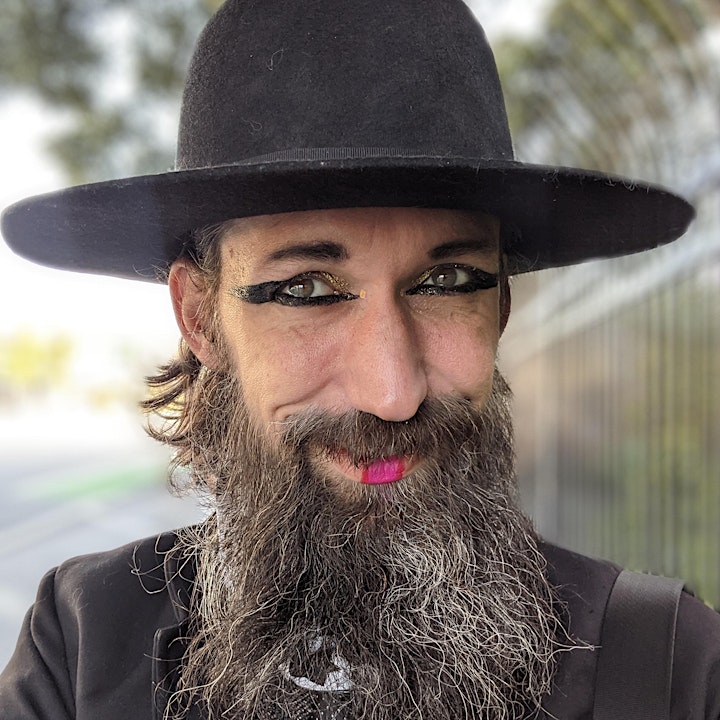 Jason Wyman is Queerly Complex, an anti-binary social practice artist living & creating on Yelamu, unceded Ramaytush Ohlone land or what colonizers named San Francisco. A mystical convener, Wyman creates spaces for comrades to explore & discover who they be individually & collectively. They work with dreams, value(s), structures, & equity to conjure forms of liberation & healing. Wyman's art-making centers the messy, intangible, emotive, & esoteric bits that make us human. It's resulted in a large-scale, participatory sticker mural with artists Celi Tamayo-Lee & Mary-Claire Amable for the Asian Art Museum, a national Youth Media Network co-produced with Myah Overstreet, a fully immersive installation at Black & White Projects called Be Jason, & numerous zines, site-speciic performances, social interventions, and intergenerational programs.
And here's Jason: All the Links. You can find everything all in one place.