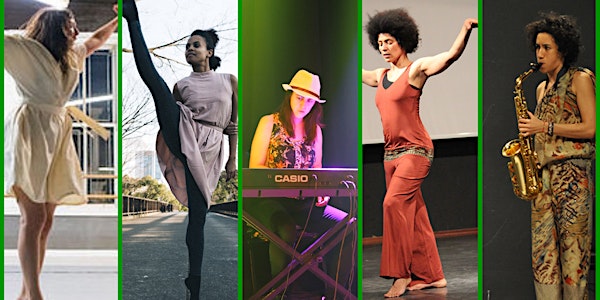 A (Re)Quest for Freedom
When and where
Location
TADA Theater 15 West 28th Street New York, NY 10001
Description
A (Re)Quest for Freedom
An evening of dance and live-music
curated by Oxana Chi & Layla Zami
In A (Re)Quest for Freedom, dancers and musicians from Europe and from the USA search for possibilities to be free, in their movements, their sounds, in community, in society, individually and together. The evening presents a wide scope of artistic forms including contemporary Dance, African Global Theater and compositional improvisation. A poetic call for equal rights and an uplifting invitation to celebrate the living body. Featuring: Oxana Chi & Layla Zami (dance-theater & live-music), Mara Rosenbloom (piano), The Lovelies (impro dance & live-music), Gwen Rakotovao Company (dance)
GWEN RAKOTOVAO COMPANY: In her solo excerpt Fitiavana (Esperanto), Gwen Rakotovao investigates how to keep building social cohesion when the words, the traditions and cultural codes we share keep dividing us. It is a dance in quest of tolerance and togetherness.
The group work Douce is a new piece currently in development at the New York University Performance Studies Department, is the exploration of the movement of standing up. What does it mean to keep rising? Dancers: Melissa Boode, Dimara Coulouras, Abigail Dias, Tyra Els, Yuki Fukui, Jennifer Jackson, Joan Liu, Hannah McClean, Irene Paci, Emma Sniegowski.
Gwen Rakotovao, is an award-winning dancer/choreographer and a TEDx speaker. She won the first prize (gold medal) at the 2012 Biarritz International Contemporary Dance Competition. She is also a 6th Korea International Modern Dance Competition and 12th Seoul International Dance Competition's finalist. In addition, Gwen holds a Bachelor of Arts degree in Performing Arts (Licence Arts du Spectacle) from the University Paris 8.
Dances by Gwen Rakotovao are inspired by her multi-cultural background and aim to use dance as a media to encourage the growth of peace. Since its debut, the Gwen Rakotovao Company has created and toured artistic work in four continents, spanning fifteen countries and thirty-three cities. Her motivation to create work comes from her desire and hope to see better relationships between human beings.
OXANA CHI & LAYLA ZAMI: Oxana Chi presents I Step On Air , a dance-music-theater piece dedicated to the iconic activist, poet and speech therapist May Ayim, also known as the Afro-German Audre Lorde. The work was originally commissioned by Dr. Natasha Kelly's for the May-Ayim-Seminar at Humboldt-University Berlin. The piece was conceived and choreographed by Oxana Chi, who interprets it on stage together with Layla Zami (saxophone, kalimba, physical theater).
Oxana Chi is a German-Nigerian dancer, choreographer, curator, festival organizer, filmmaker and author. Her company Oxana Chi & Ensemble Xinren was founded in Berlin in 1991 and moved to New York in 2015. She is a DOSHIMA 2016 Ambassador of Peace (Jakarta). In 2018, she was listed in the Dance Enthusiast's A to Z of People who Power the Dance World.
Layla Zami is an interdisciplinary artist, academic, writer and globetrotter, born in France of Jewish-Caribbean descent. She is currently a Visiting Assistant Professor in the Performance + Performance Studies Graduate Program at Pratt Institute.
Oxana Chi and Layla Zami performed work across New York City and across the globe. Awards and residencies include the Abrons Arts Center AIRspace Grant for Performing Artists (2017-2018), Jamaica Center for Arts & Learning Residency (February 2017), La Maison rouge : Maison des Arts Residency & Performance Program (2014 & 2019).
The duo curated innovative series and events for Berlin Technical University (Berlin 2050 - City of Future), Dixon Place and The Center for the Humanities (CUNY Graduate Center) among others. They are currently Co-Curators of Dance at the International Human Rights Art Festival.
MARA ROSENBLOOM: Pianist, composer, & bandleader Mara Rosenbloom has been called "a whole hearted poet of the piano," – she is a builder & a synthesist; a fiercely lyrical composer & improviser (All About Jazz). New York Music Daily described her album Prairie Burn - a suite that focuses closely on intensely collaborative improvisation - as her "quantum leap into greatness. An absolutely feral, largely improvisational suite...unbridled ferocity and a remarkable chemistry...one of the ten best jazz albums of the year."
Since arriving in New York, Rosenbloom led a long-running successful quartet with alto saxophonist Darius Jones, bassist Sean Conly, and drummer Nick Anderson. "There's an earthy, outdoors quality to her music that is delightfully unsettling" wrote jazz critic Brian Morton (Penguin Guide to Jazz) of the Quartet's second release Songs from the Ground.
Mara Rosenbloom's career has been defined by eclecticism and diversity. She also has become a performer who seamlessly crosses the boundaries of musical style & genre, lending the strength of her voice (through the piano) to a broad array of ensembles. Her mentors in piano performance and composition include the late, great Connie Crothers as well as Jim McNeely, Gil Goldstein, Angelica Sanchez and the incomparable Cooper-Moore.

THE LOVELIES: The Lovelies are a compositional improvisation dance company. We show up and pay attention. What we do in the studios we take to the streets and beyond. We laugh, we laugh so hard we cry, and we do it in the moment. We practice telling the truth in the midst of the awkward, the dramatic, the comical and the gems it all reveals. Dancers Joanna Futral, Katie Vason, and Lena Lauer will be accompanied by Kirin McElwain on the cello.
The Lovelies have been exploring the possibilities of compositional improvisation since 2013. We have had the honor of being presented at Judson Church, Triskelion Arts, The Tank, Brooklyn Arts Exchange, Shapeshifter Lab, in breweries, salons, parks, hotels and many other theatres and site-specific locations. The Lovelies teach compositional improvisation at Mark Morris Dance Center and the Joffrey Ballet School and present a space residency and split bill series called The Lovelies Present: Slice & Dice.
Compositional improvisation (dance and live-music) had its beginnings with Judith Dunn, dancer, and Bill Dixon, (predominantly) trumpet player, in the 1960s. It works to heighten awareness and use all aspects of space & time to recognize form as it emerges and make a piece. No dances are ever recreated twice, as the nature of the form allows for constant reinvestigation and discovery.