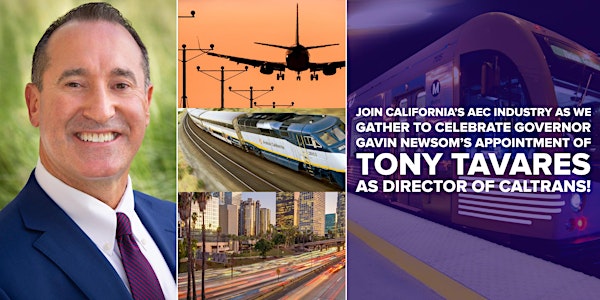 A Reception for Tony Tavares - Director of Caltrans
Join California's AEC Industry as we gather to celebrate Governor Gavin Newsom's appointment of Tony Tavares as Director of Caltrans!
When and where
Location
City Club of Los Angeles 555 Flower Street 51st Floor Los Angeles, CA 90071
About this event
About Our Honoree:
Caltrans Director Tony Tavares
Tony Tavares was appointed the 34th Director of the Department of Transportation (Caltrans) by Governor Gavin Newsom and sworn in June 2022. Director Tavares manages a nearly $20 billion budget and more than 22,000 employees who oversee 50,000 lane miles of highway, maintain approximately 20,000 bridges, provide permitting of more than 400 public-use airports, fund three of Amtrak's busiest intercity rail services and provide transit support to more than 200 local and regional transit agencies.
Director Tavares' transportation vision for California addresses critical climate issues and advances a safe, equitable, accessible, sustainable, and multimodal transportation system that builds on strong partnerships and robust stakeholder engagement. He fosters a people-first culture built on the principles of Safety, Equity, Climate Action, and Economic Prosperity -- furthering a California for all. He encourages innovation and intelligent risk-taking, as transformative innovation will be needed to achieve zero traffic-related deaths and serious injuries by 2050 and reduce greenhouse gases (GHGs) by 40% by 2030.
Director Tavares most recently served as Director of Caltrans District 7, which encompasses expansive Los Angeles and Ventura counties. As District 7 Director, he oversaw transportation systems in a dynamic region that boasts 25% of California's population; an annual construction program of more than $2 billion; and some of the most innovative solutions to help move people and goods through Southern California, part of the 5th largest economy in the world.
Prior to overseeing District 7, he served as Caltrans Bay Area Director (District 4) where he was instrumental in implementing California's landmark Senate Bill 1 (SB1), the Road Repair and Accountability Act. Tavares also progressed Caltrans' goals as he served on several boards of regional transportation planning agencies, joint powers authorities and transit development.
About Our Event Emcees:
Dr. Giovanna Brasfield
Dr. Giovanna Brasfield commonly known as "Dr. G," presently serves as the CEO and Principal Consultant at Brasfield & Associates focusing on leadership, diversity, and inclusion. Most recently, Dr. G served as the Vice President of Project Diversity & Inclusion for Flatiron Construction's Southwest Division as well as the Inclusivity Manager for LINXS Joint Venture team delivering one of the region's key infrastructure projects on the Los Angeles World Airport's Automated People Mover (APM) project. She assisted the Southwest District Manager and the Division Manager in meeting contractual requirements on current and upcoming project pursuits that engage women, diverse businesses, local workforce, and youth engagement.
Dr. Brasfield is a true advocate, leader, and change agent within construction who is driven from the inclusion of others within construction and construction-related trades. Dr. Brasfield has been named the 2021 Los Angeles County Impact Maker by Stratiscope, Inc., 2020 Mujer del Ano by the Regional Hispanic Institute as part of the Regional Hispanic Chamber of Commerce, identified by Autodesk as one of the 2020's and also the 2019's "Top 50 Construction Influencers" across the United States, by the Los Angeles Business Journal as a finalist for the Rising Star Award, and by Diversity Professional Magazine as a "Game Changer".
Anthony Valdiosera
Anthony Valdiosera is a member of several California AEC community organizations including CMAA Northern California Chapter, Latinos in Transit and BuildOUT California where he is a key ally leading the program management efforts for the Transportation Working Group (TWG).
Anthony is also the CEO of VST Engineering. He began his career as a roadway and railway design engineer before transitioning to project and program management. Anthony recognizes client expectations and facilitates effective communication throughout the project team to ensure high-quality and timely project execution. Anthony, along with his two co-founders, came together with a shared passion for teamwork and a vision of a firm focused on accountability and quality. VST has built a diverse team of Professional Engineers with a wide range of project experience including development of alternative concepts for local agencies, engineering in support of environmental analysis, and both project management and design of large‐scale railway & roadway design‐builds.
AEC Industry Organization Hosts
American institute of Architects (AIA) Los Angeles
American Society of Civil Engineers (ASCE)
Associated General Contractors of California (AGC of CA)
BuildOUT California (BOC)
California Alliance for Jobs
California Asphalt and Paving Association
CIWI
Construction Management Association of America (CMAA) Nor Cal
Construction Management Association of America (CMAA) Southern California
Construction Network
Greater Los Angeles African American Chamber of Commerce (GLAAACC)
U.S. Green Building Council Los Angeles (USGBC LA)
Latinos In Transit (LIT)
National Association of Minority Contractors (NAMC)
Royal Institution of Chartered Surveyors (RICS)
Society of Hispanic Professional Engineers (SHPE)
United Contractors (UCON)
WTS Los Angeles
If your California AEC organization would like to be a host of this event please email: info@buildoutcalifornia.org
Event Sponsors
Associated General Contractors of California (AGC of CA)
BuildOUT California (BOC)
California Construction and Industrial Materials Association
Flatiron
G3 Quality
United Contractors (UCON)
California Alliance for Jobs
Rebuild So Cal Partnership
The Solis Group
If your business or organization would like to be a sponsor of this event please email: info@buildoutcalifornia.org