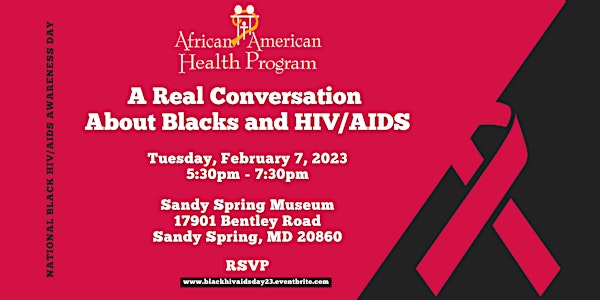 A Real Conversation About Blacks and HIV/AIDS
Join the African American Health Program on Tuesday, February 7 for our special event in observance of National Black HIV/AIDS Awareness Day
When and where
Location
Sandy Spring Museum 17901 Bentley Road Sandy Spring, MD 20860
About this event
Ready to get real about HIV/AIDS in our community? Join AAHP on Tuesday, February 7 for a special event in observance of National Black HIV/AIDS Awareness Day. This unique event will take place at the Sandy Spring Museum from 5:30-7:30 and will feature open discussions with experts, healthcare workers, and people whose lives have been impacted by HIV/AIDS.
We are excited to have Dr. Kisha Davis, the newly appointed Public Health Officer for Montgomery County, as our special guest. Join the discussion with experts, Melvin Cauthen, Administrator for HIV/STI Programs for the Department of Health & Human Services, and Trina Scott, Senior Community Liaison with Gilead Sciences. This informative and engaging event will be facilitated by Dr. Ikenna Myers, Program Manager for Clinical Services, African American Health Program. Enjoy smooth jazz played by saxophonist, David Machado. Light refreshments will also be served.
HIV testing will also be available. Space is filling up fast so RSVP today!
Blacks/African Americans are impacted by HIV/AIDS more than any other race or ethnic group. Recent reports show that Blacks/African Americans accounted for 62% of HIV diagnoses in Montgomery County, while accounting for only 17% of the population. This cannot stand! If you're serious about building an HIV-free future and want to learn how to protect yourself, your loved ones, and your community from HIV, this event is for you. ⁠No matter your relationship status, sexual health status, or sexual orientation, if you're having sex, you owe it to yourself to be real about your sexual health.
National Black HIV/AIDS Awareness Day was created to remind us of the disproportionate impact of HIV and AIDS on African Americans, so let's use this opportunity to educate ourselves, get tested, seek treatment if necessary, and work together to reduce stigma and eliminate new infections. On February 7, join us in uniting against HIV/AIDS and making a difference for our communities!
Our partners
African Affairs Advisory Group, African-American Advisory Group, Caribbean American Advisory Group, Montgomery County Collaboration Council, NAACP, Montgomery County Branch, Patuxent River (MD) Chapter of The Links, Incorporated, and Silver Spring (MD) Chapter of The Links, Incorporated