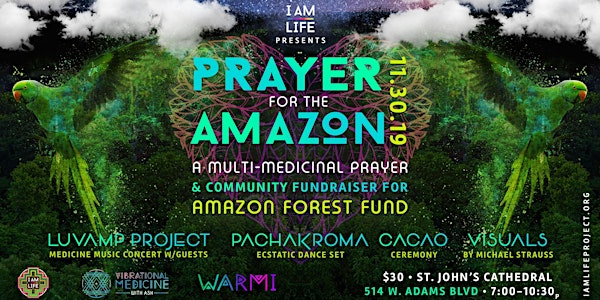 A PRAYER FOR THE AMAZON
When and where
Location
St John's Episcopal Cathedral 514 West Adams Boulevard Los Angeles, CA 90007
Refund Policy
Refunds up to 1 day before event
Eventbrite's fee is nonrefundable.
Description
A Multi-Medicinal Prayer & Community Fundraising event for Amazon Forest Fund
https://ealliance.org/amazonfund/
For our SOUL CIRCLE 13 we've chosen to support the AMAZON FOREST FUND. In support of ALL OUR RELATIONS, let's join together to celebrate life through prayers of music, connection, and dance!
::::::::::::::::::::::::::
:::::::::::::::
Featuring LUVAMP PROJECT, PACHAKROMA, and special medicine music guests.
Visuals by Michael Strauss:
https://www.facebook.com/

michaelstraussvisuals/
w/ I.AM.LIFE Tea Lounge & Cacao Ceremony

sponsored by Imlak'esh Organics & Warmi Tea

TICKETS: $30/advance, $40/door
***This is a family friendly event children 12 and under come for free***This is also a Drug and Alcohol free event***

GREAT ARTICLE: 10 Things you can Do to Save the Amazon


https://bloomnetwork.org/

10-things-you-can-do-to-sav

e-the-amazon2/

?fbclid=IwAR3mWXSo8Tt2zCi3h

AK_pItETxLNTjJHFoeFoIFZB3E

tjsznevxXTcqTyzs



::::::::::::::::::::::::::

:::::::::::::::

❤ SCHEDULE:
7pm: Doors Open - I.AM.LIFE Guayusa Tea Lounge
7:30: Cacao Ceremony w/MUSIC GUESTS
8:15: LUVAMP PROJECT
9:30: PACHAKROMA
❤ Bring:
*Something comfortable to sit on for the opening sets before we boogie.
*Water

❤ PARKING:
Parking is limited - we suggest arriving early, carpooling, or, better yet, use Uber or Lift!

1. There is limit gated parking in two the church lots
2. Plenty of non-metered street parking available from 6 PM on
3. Additional parking at: Mobile gas station, next to church
4. And at Bank of America parking lot from 7 PM on

PUBLIC TRANSIT:
St. John's is right across the street from the Metro Expo Line stop at LATTC/Ortho Institute, and next to stops for the Bus Lines:14, 37, 81, 442, 4X, 460, 701, 721, 910/950, Commuter Express 422 & 423, Downtown Dash F.



::::::::::::::::::::::::::

:::::::::::::::

❤ ABOUT CACAO: Cacao is considered by some to be "the elixir of the gods." The Mayans consumed Cacao in a variety of their religious rituals to open their hearts and expand their consciousness.

"For thousands of years, cacao has been cultivated in Central America for its beneficial health compounds. The ancient Maya viewed cacao as a precious substance, and it was used for food as well as for religious and economic purposes.

Many medicinal qualities are hiding within this seductive bean. Flavanols, one of the most important, improve vascular and cognitive function and provide ultra violet protection for the skin. Cacao also has high concentration of an alkaloid called Theobromine, also found in coffee. Theobromine has stimulant properties and relaxing effects. It dilates the blood vessels and lowers blood pressure. And if that wasn't enough, cacao is also rich in soluble fiber, antioxidants, iron, magnesium, copper, manganese, potassium, phosphorus, zinc, and selenium.

The MAO inhibitors found within cacao allow more serotonin and neurotransmitters to circulate around the brain at the same time, increasing the feelings of happiness and joy." ~borrowed from our friends @ LaChocotia -

http://www.lachocotia.com/

#aboutcacao-section

❤ IAMLIFE Guayusa Tea Lounge, sponsored by WARMI: is an immersive environment utilizing the tea lounge setting as an opportunity to promote and encourage interconnectivity, community, sustainability, environmental stewardship, and preservation of indigenous wisdom. https://www.warmi.co/

We serve a tea from Ecuador called "Guayusa" (pronounced "Why-you-sa" or "Gwhy-you-sa"):

Traditional Use: This medicinal leaf has its origins in ritual use in several indigenous "dream cultures" from Ecuador. Typically prepared for a morning dream-sharing ritual, this tea is used to facilitate dream sharing, the planning of the days activities, and general counsel and discussion of the mythology and cosmovision that compose the oral tradition of the people.