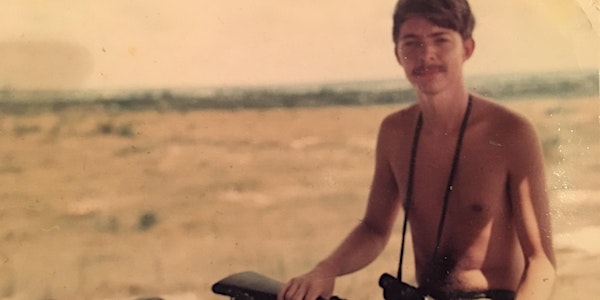 A Party to Benefit JIMMY IN SAIGON
When and where
Location
The Laundry 3359 26th Street San Francisco, CA 94110
Description
Hosted by FILMMAKER PETER McDOWELL, with PERFORMANCES BY DYLAN RICE, NADINE LOLLINO & TREY DONOVAN, as well as a CONVERSATION WITH McDOWELL AND FREDERICK MARX (OF WARRIOR FILMS)
---
JIMMY IN SAIGON is a feature-length indepedent documentary from Peter McDowell and executive producer Dan Savage. Peter's eldest brother, Jim, died in Saigon in 1972 when Jim was 24 and Peter was only 5, and the film is an elegiac portrait that explores war, drug use, sexuality, and healing. The event will feature a 14 minute clip, a conversation between Peter and Frederick Marx of Warrior Films, a performance by singer/songwriter Dylan Rice, and a dance duet by Nadine Lollino & Trey Donovan. Also included: food from Dolores Park Cafe, West of Pecos, Rice, Paper, Scissors, and Ocho, a silent auction (featuring a travel package, a prize from Dan Savage himself, and numberous pieces of art), bottle pull (take home a bottle of wine or spirits!), as well as hors d'oeuvres and wine & beer.
---
This event is a benefit to fund the completion in 2020 of JIMMY IN SAIGON. Indepedent documentary filmmaking is expensive to produce and fund. With a lean budget under $100,000, JIMMY IN SAIGON is in urgent need of funds to cover editing and post production costs to finish the film and begin submitting it to festivals and distributors.
And in solidarity with the veterans community, 10% of our proceeds will go to Warrior Films! Warrior Films is a Bay-area nonprofit that is shining the spotlight on how veterans can use traditional and non-traditional rites of passage to heal from the emotional and psychic scars of war.
Frederick Marx is the visionary co-creator of Hoop Dreams, produced in association with Kartemquin films, and the founder of Warrior Films. Peter, Frederick, and Peter's late brother Jimmy share the common bond of having graduated from University of Illinois high school ("Uni High") in Urbana, IL.
Peter and Frederick will discuss Jimmy in Saigon on stage at the event.
---
Host Committee: Dan Savage, Frederick Marx, Norma Rodriguez, Ari Salomon and Yoriko Yamamoto, Emi Takahara, Beau Takahara, Guy Brenner, Dylan Rice, Debbie Ng, Karim Baer, Derek Chen, Leah Willett, Julie Trachtenberg, Sherwin Gooch, Jon Crosby, Dinesh Das Sabu, and Jill Linwood.
---
---

---