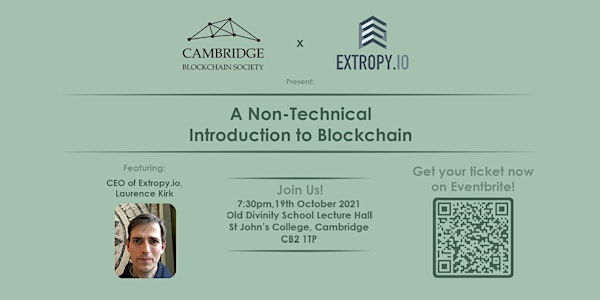 A Non-Technical Introduction to Blockchain
Join us on Tuesday, 19th Oct @7:30PM to hear Laurence Kirk, CEO of Extropy.IO, giving a non-technical talk as an introduction to Blockchain.
When and where
Location
Main Lecture Theatre, Old Divinity School, St John's College Saint Johns Street Cambridge CB2 1TP United Kingdom
About this event
By popular demand, the Cambridge Blockchain Society is organising a talk with Laurence Kirk, CEO of Extropy.io, who will be giving a non-technical introduction to Blockchain Technology.
Join us on 19th October 2021 @7:30PM in the Main Lecture Theatre, Old Divinity School, St. John's College, University of Cambridge.
Who are Extropy.io?
Extropy.io was founded 2015 by Laurence Kirk to provide consultancy services in Distributed Ledger Technology. Extropy.io regularly contribute to the blockchain community by providing training and education, both in-house and externally.
Their vision is to bring bright young people into the blockchain space through their talks and workshops on blockchain and cryptography. In order to help drive their vision forward, their courses are offered at no additional cost. Please visit their website to see a full list of talks.
"We've learned that people learn best by doing, that's why our workshops are hands on so our students can get the best learning experience right from the outset. We take pride in our workshops being hands on because as well as knowledge, our students leave with valuable experience."
Who is Laurence Kirk?
"After a successful career developing financial applications in the City of London, I was captivated by the potential of blockchain technology. I moved to Oxford and set up Extropy.io, a consultancy working with start-ups in the UK and overseas, developing decentralised applications, and consulting on blockchain technology and cryptography.
I hold a Physics degree from Durham University and am currently taking an MSc in Software Engineering at Oxford University where I founded the Oxford Blockchain Society. I teach blockchain and cryptography workshops and give talks on Blockchain, Ethereum and Zero Knowledge Proofs at conferences worldwide."