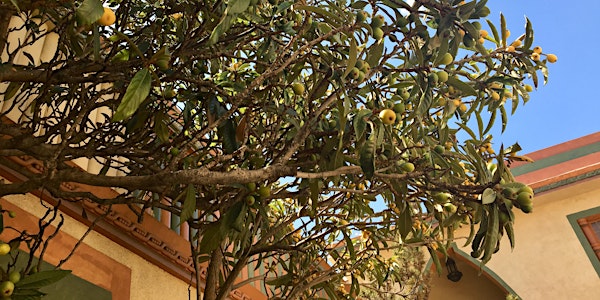 A Night of Art at PRS: Reception for New Shows in Library and Gallery
When and where
Location
Philosophical Research Society 3910 Los Feliz Boulevard Los Angeles, CA 90027
Description
Join us for Summer Solstice as our campus comes alive with an evening of art and performance!
Free Event — RSVP by June 20th
LIBRARY
Sculpture exhibit by Malado Baldwin (on display until August 31st)
GALLERY
Photography exhibit by Wyatt Troll, featuring dance performance by Katie Malia and original soundtrack by E Ruscha V. (on display until July 10th)
AUDITORIUM + COURTYARD
Music by Taylor Rowley of The Windmills of your Mind on NTS Radio
RECEPTION
Sponsored by The Spirit Guild and Pendragon Haven Studios
---
---
About the exhibits:
LIBRARY
Malado Baldwin / Sacred Ornaments: Inner Light Embroideries and 3D Printed Sculptures
The daughter of Peace Corps volunteers and development workers, artist Malado Baldwin spent her childhood in West Africa. Her diverse cultural and genetic background becomes a rich source for her telling of personal narratives as presented through larger cultural myths and histories. Highly researched and richly textured, Malado's work draws us into stories where symbolic artifacts from one culture can be reworked by another. New meaning is created in objects by allowing cultures to mix in surprising ways. The artist's curiosity about her roots began a journey of exploration and discovery, and years of research into symbolic ornamentation across diverse cultures and religions. She began her research in our Library, so it is fitting to see her work displayed in this context, exemplifying our mission of the diversity of wisdom.
Artist bio:
Malado Baldwin (b. Malado Francine Baldwin-Tejeda) is an American artist based in Los Angeles. Her work in multiple media examines the intersection of culture and identity through the re-telling of personal narratives. She has a BA in comparative literature from Swarthmore College, and an MFA in painting from the New York Studio School. She has shown internationally for over twenty years. Her early film work was recently acquired as a part of Miranda July's feminist film archive at Bard College and the Getty Research Institute. Recent projects include participating in both bi-coastal 2019 Every Woman Biennials with a film screening in New York and an art-book installation in Los Angeles. A solo show of films and sculptures premiered at Winslow Garage LA in 2018; recent group shows include KeyHole Gallery Brooklyn, and Hackett Mill Gallery San Francisco. Upcoming shows in 2019 include film screenings at Loophole and Il Kino, Berlin, and group shows at PØST Gallery, Los Angeles, Berry Campbell Gallery in New York, and Paul Thiebaud Gallery in San Francisco.
GALLERY
Wyatt Troll / Observed Union
Our human experience finds us in conflict, both on and beneath the surface of life. We live in contradiction, feeling separated from our inner child, from nature, from love, and from the spiritual world while knowing there is a universal truth that connects everything down to the microscopic level. In Wyatt Troll's Observed Union the world is transcendent and filled with magic. Moments of divinity are revealed with a sense of patience and wonder; the contrasts of life depicted in harmony. Light and dark. Feminine and masculine. Each image, a meditation on beauty realized through expansive horizons and ephemeral nature, mirroring our union with the universe. The show features an original soundtrack by E Ruscha V., incorporating heartbeat recordings by Wyatt Troll. Opening night features a dance performance by Katie Malia.
Artist bio:
Wyatt Troll is passionate about creating images. As a photographer, cinematographer, and director, he is driven by honest storytelling through a visual language all his own. Being raised on a commune, then bred in New York City, makes for quite an interesting outlook. He attended LaGuardia School of Art, Music, and Performing Arts before moving to California to study photography at Art Center College of Design in Pasadena. Never without his camera, Wyatt has taken countless photographs throughout his life and career, honing a multifaceted understanding of spaces and human dynamics, both natural and staged. Drawing from art history, he is always looking for a new way of seeing. As a photographer, he has documented incredible human portraits and intimate circumstances of intrigue. His experiences have instilled a heavy desire to share the situations he has documented visually. His development as an artist never stops due to the dynamic surroundings of his life.

Curator bio, Observed Union:
Yael Greenberg is an Israeli born, LA-based curator and producer. Through her outlet Current Projects, she creates meaningful cultural experiences with the notion that ideas and people come first, the medium second, working closely with artists to bring their vision to life. Her recent productions include Symphony Both Spoken and Sung at PRS with Mandy Kahn and Jodie Landau, Doug Aitken's DON'T FORGET TO BREATHE, David Lynch's Festival of Disruption, and Karen O and Danger Mouse: An Encounter with Lux Prima at Marciano Art Foundation.