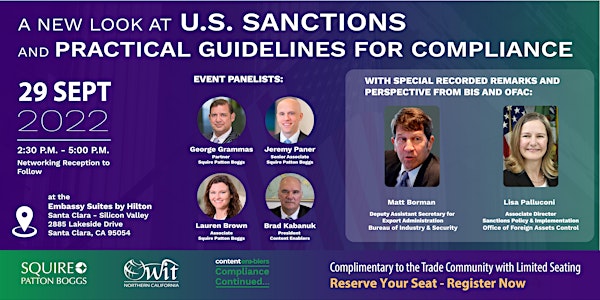 A New Look at U.S. Sanctions and Practical Guidelines for Compliance
FREE and Open to the Trade Compliance Community with Limited Seating
When and where
Location
Embassy Suites Santa Clara - Silicon Valley 2885 Lakeside Dr Santa Clara, CA 95054
About this event
Register above to RESERVE YOUR SEAT TODAY!
Featuring a select panel of high-level government and industry policy leaders, the expert panel will explore emerging sanctions and embargoes compliance trends in 2022 and beyond to include:
BIS/OFAC Panel on Advancing U.S. Foreign Policy and National Security Through Economic Sanctions and Export Controls. BIS and OFAC have each played key roles implementing U.S. policy on China and Russia. This panel discussion will explore how each agency has employed its authority, lessons learned, and the challenges ahead.
Trade Compliance and Sanctions Training in Rapidly Changing Environments
Update on Russian Program - Export Controls and Sanctions
Presentation from FEATURED SPEAKERS
(Recorded presentation and remarks from September 26, 2022)
Matt Borman | Deputy Assistant Secretary for Export Enforcement - BIS | U.S. Department of Commerce
Lisa Palluconi | Associate Director, Sanctions Policy & Implementation - OFAC
LIVE EVENT PANELISTS
POST-EVENT NETWORKING RECEPTION
A networking reception with cocktails and hors d'oeuvres will be held following the event.
Space is limited, so register soon to save your seat!
Featured Speaker Bios:
Matt Borman | Deputy Assistant Secretary for Export Enforcement - BIS | U.S. Department of Commerce
Matt currently serves as the Deputy Assistant Secretary of Commerce for Export Administration. In this position' he is responsible for implementing the Bureau of Industry and Security's controls on the export of dual-use and military items for national security' foreign policy' nonproliferation' and short supply reasons. In addition' he oversees BIS programs to ensure that industrial resources are available to meet national and economic security requirements' and BIS implementation of the Chemical Weapons Convention and the Additional Protocol to the U.S.-IAEA Agreement. Prior to his appointment as Deputy Assistant Secretary' he served as Acting Chief of the Enforcement and Litigation Division of the Office of Chief Counsel for Export Administration. In 2017, Matt received the Presidential Rank Award for Meritorious Service. Recipients of this prestigious award are strong leaders, professionals, and scientists who achieve results and consistently demonstrate strength, integrity, industry, and a relentless commitment to excellence in public service. He received his B.A. in History from Northwestern University' his M.A. from Northeastern University' and his J.D. from New York University School of Law.
Lisa Palluconi | Associate Director, Compliance and Enforcement at OFAC
OFAC is responsible for administering more than 20 sanctions programs, including sanctions on Iran, North Korea, and Russia. As Associate Director for SPI, Lisa oversees OFAC's Licensing, Policy, and Regulatory Affairs Divisions.
Lisa joined the Treasury in 2012, as an attorney-advisor in the Office of the Chief Counsel, Foreign Assets Control, where she helped design and negotiate the Iran nuclear deal, known as the Joint Comprehensive Plan of Action (JCPOA). Lisa then served as Director for Iran Nuclear Implementation at the National Security Council (NSC), coordinating U.S. implementation of the deal. Following her time at the NSC, Lisa was a Senior Sanctions Advisor at OFAC, coordinating OFAC's Iran and Venezuela sanctions programs. Prior to joining the Treasury, Lisa spent more than a decade in the private sector, including as in-house counsel to IBM and as an associate at the law firm of Akin Gump Strauss Hauer & Feld. She holds a B.A from the University of Tulsa, an MPA from Harvard's Kennedy School of Government, and a J.D. from Harvard Law School. Lisa is a Harry S. Truman Congressional Scholar.
Thanks to our EVENT SPONSORS: