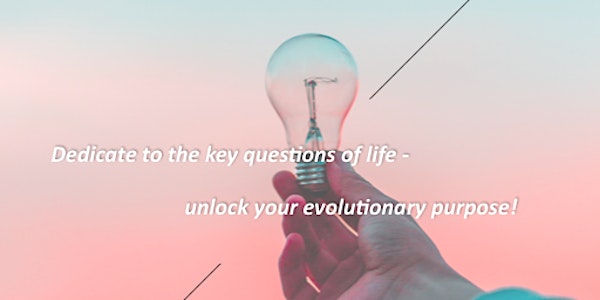 A Journey to explore your Evolutionary Purpose
When and where
Location
Coconat Space Klein Glien 25 14806 Bad Belzig Germany
Refund Policy
Contact the organizer to request a refund.
Description


You are warmly invited to a life-transforming weekend journey!


In a 2.5-day seminar, you are welcome to dedicate yourself to your personal
"Why are you here?"
as we set a space to exploring and elaborating your evolutionary purpose!
This journey is about courage and the emergence into the unknown - consciously, autonomously and with an elementally new approach of working with the source-intelligence.
Through a purpose-driven way of living and working, you are empowered to consciously steer evolution and participate in it. Tomorrow lies in our hands, and every human being can, in his or her own intrinsic and unique way, help bring about a better and fairer future.




Our goals and seminar structure
Our leading questions:
Who are you?
Why are you here?
What tasks and roles can you fulfill and take within your evolutionary purpose?
How can you implement it meaningful, holistic and benevolent?
What kind of resistances and tension fields should be overcome / solved on the way and how?
Program of the Seminar:
Setting a new authentic alignment

based on that, we learn how to approach the evolutionary purpose.

Working with source-intelligence

Based on specific self-awareness practices, that can bring each one in touch with the inherent source, we work on recognizing blockages and exposing an access path leading you to your highest potentials and hidden gifts.

Our next steps to bringing purpose in action

Over the course of the journey, we will be forming the next steps that will lead to the realization and embodiment of your evolutionary purpose, so you can start approaching and creating your new life right away.
Dedicate yourself to the key questions of life and unlock your evolutionary purpose in a highly vibrant and connected space!
---
Time & Dates
Friday, June 22nd 17.00-20.00
—> Introduction, preparation & initiative dinner
Saturday, June 23rd 9.30-18.00
—> Part I Seminar "Journey to explore your evolutionary purpose"
Sunday, June 24th 9.30-16.30
—> Part II Seminar "Journey to explore your evolutionary purpose"
---
(Optional) Pricing at Coconat Space Venue
An inspiring and beautiful workation retreat space to concentrate, work, and play in the countryside near Berlin, offering cozy rooms that can be booked upon request.
All inclusive board rate (all meals & all beverages*) for 2.5 days / 84,00 Euro per person
(optional but recommended)
Accomodation for two nights in single, shared room or tent at Coconat Space (optional)
1. Price for two nights single room: 97 Euro per person
2. Price for two nights shared room with two single beds: 65 Euro per person
3. Price for two nights shared with up to 4 beds (two bedrooms in one space): 43 Euro per person
4. Price for two nights camping in own tent: 11 Euro
---


*please note: it is also possible to pay each meal individually or make your own meals in an extra kitchen that is being provided by the Coconat Space. Please inform me about your preferation.
If you would like to stay at the Coconat Space throughout the seminar, please write me an email and I will connect you with the Coconat Space team.