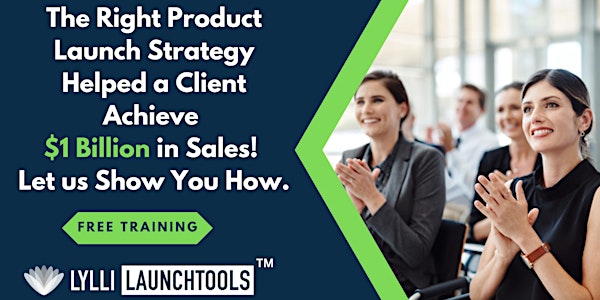 Multiple dates
A Free Webinar that shows you to How to Succeed at Product Launch
We encourage Product Managers and Businesses who are looking to market their product so customers will buy them - to join this free training
By Dynamite Networking Group
Date and time
August 16, 2022 · 8am - September 26, 2025 · 9am PDT
About this event
Do you struggle with marketing your product and attracting customers? Are you looking for a way to improve your launch strategy and avoid common obstacles? Then Lylli LaunchTools is the solution for you.
Introducing Lylli LaunchTools - An Intuitive Platform for Successful Product launches
How Lylli LaunchTools Can Help You Achieve a Successful Product Launch
- Visualize Your Launch Strategy: Input your strategy and Lylli LaunchTools will bring it to life in a visual way so you can see what it truly looks like.
- Generate Your Roadmap: Lylli LaunchTools captures your strategy and inputs to create your path to success. It maintains your strategic visibility throughout the journey so you never lose sight of it during execution.
- Track Your Progress: You'll have a single view that tells you everything you need to know, every step of the way. Accountability, collaboration, and resources are brought together under one interface, helping you stay on track towards a successful launch.
- Maximize Your Resources: Lylli LaunchTools helps you foresee obstacles, avoid pitfalls, and shift from solving problems to avoiding them. You'll get hundreds of hours back every week that were spent managing the launch process, so you can launch better, faster, and smoother.
Benefits of Using Lylli LaunchTools
- Increased ROI: With Lylli LaunchTools, you'll see a significant return on resources.
Obstacle Prediction: You can foresee obstacles and avoid pitfalls, improving your chances of success.
- Empowered Team Members: Your team will be engaged and empowered, maximizing your man-hours and ensuring that everyone is working towards the same goal.
Get Started with Lylli LaunchTools Today
Contact Us for a Demo: To see how our GPS navigation platform can help you Navigate your next launch, contact us for a demo by emailing Rajiv@connectastrategy.com or Lynn@connectastrategy.com.
Don't settle for a mediocre product launch. Use Lylli LaunchTools to create a better, faster, and smoother launch that maximizes your resources and empowers your team members.
In this Masterclass, we'll be talking about how one campaign got into the Guiness Book of Records and how one campaign generated an extra $1 Billion dollars for the client at Launch.
This webinar shows you how this is possible and how to enhance your existing product launch planning process.
----
ABOUT THE PRESENTERS
Lynn Donaldson is the founder and CEO of ConnectA Strategic Solutions Group.
From the pharmacology research lab to clinical data management, I have spent my 25+ year career partnering with companies to develop, launch, and market their products in the pharmaceutical and life sciences sectors.
Yet, despite the incredible work being done within the industry, I noticed one glaring challenge: 60% of product launches were failing - and they often had NOTHING to do with the drug/product's safety.
Rajiv Jadhav is the Founder & CEO of Rsquare Media Inc. - an award winning minority certified online visibility and reputation management firm that helps clients Be Seen or Not Be Seen online. Rsquare Media was awarded the prestigious Minority Business of the Year award in 2017 in the company of ConEdison & MTA at a gala event in Manhattan. Rsquare Media won the award in recognition of all its efforts to bring innovation in Internet Marketing to small and minority owned businesses.
Prior to Rsquare Media Rajiv served in leadership roles at various Fortune 500 companies helping organizations like Times Group, Citi, Unilever, Marriott, Disney, Procter & Gamble, etc. innovate and reimagine new ways of achieving optimal brand-consumer interaction and engagement in the pursuit of customer acquisition objectives.
To get back 100s of hours back into your work week, Signup for our 30 Day Free Trial: https://www.lyllilaunchtools.com/signup
No Credit Card Needed
Frequently asked questions
Is Lylli LaunchTools a Project Management Software?
Is Lylli LaunchTools easy to use?
Does Lylli LaunchTools offer a Free Trial?
Who is this Masterclass for?
Why is this Masterclass/Live Coaching Free?
About the organizer
What is Dynamite's Purpose?
To Ignite Authentic Human Connection. 
Our Founder noticed that most networking experiences are very blah, so he wanted to create an immersive, rich experience that wasn't blah. We want to get to know the Real You. It's that You that we want to connect with. Once we do, we're delighted to share referrals to help you grow your business.
---
What's a SuperConnector?
A SuperConnector is an awesome human being who has a massive network of 5-10K+ professionals, who, on a moment's notice (IRT) can join the dots in any conversation and suggest quality people for you to link with to help you meet your objectives. 
---
Why do I need a SuperConnector in my Life? 
A SuperConnector gives you:
Quality Referrals

Education in their Area of Expertise 

Access to their Network