About this Event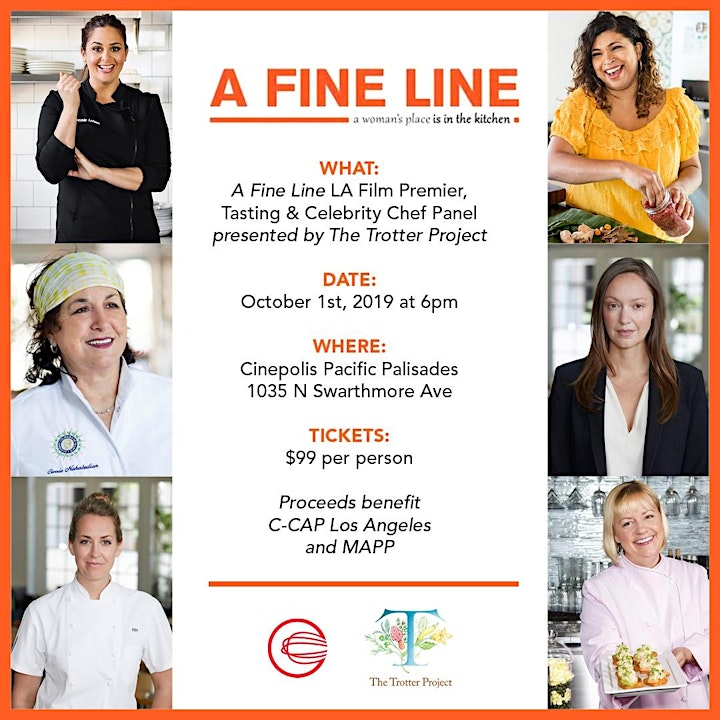 The evening will include a lively and decadent cocktail reception from 6-7pm featuring culinary creations from our celebrated Chefs and panelists Antonia Lofaso, Carrie Nahabedian , Aarti Sequira, Ellen Curtis, Hilary Henderson and moderator Sherry Yard. In addition to culinary creations, guests will enjoy complimentary champagne, wine, popcorn and candy concessions.
We hope you will join us as we come together to shine a much-needed light on a movement close to all of our hearts. It is no secret that the stars in the kitchen have long belonged to men. In this moving documentary, filmmaker Joanna James showcases both the celebrity and passionate chefs that are making a difference in today's culinary scene.
Proceeds from the evening will benefit C-CAP Los Angeles and MAPP.
The Trotter Project is Chef Charlie Trotter's philosophical legacy. A philosophy which embodies the idea that excellence and purpose are best achieved through service to others. Chef Trotter was a mentor to both the chefs in his restaurant and to the disadvantaged students he tutored in his own home. His mission was to provide each person with the opportunity to diligently pursue their own dreams. At The Trotter Project, we open doors through education, mentorship, and the pursuit of excellence in the global culinary and hospitality industries. Our scholarships, summer camp and culinary events all serve students who might not otherwise have these opportunities so that they may in turn serve a brighter future - for both themselves and their communities.
About Careers Through Culinary Arts Program Los Angeles
The Los Angeles Region of C-CAP annually prepares 3,784 high school students in over 25 schools throughout LAUSD for college and career opportunities in the restaurant and hospitality industry. In addition to extensive culinary curriculum, C-CAP provides job training and internships, curriculum enrichment, career exploration and advising opportunities utilizing a wide network of local and celebrity chefs. Additionally C-CAP provides roughly $1 Million dollars to Los Angeles scholars annually through cooking competitions, college advising, teacher professional development and product donations for classrooms.
A Fine line explores why only 6% of Head Chefs and restaurant owners are women, when traditionally women have always held the central role in the kitchen. . A Fine Line grapples with themes sparking national conversations right now, including workplace harassment, equal pay, paid parental leave and career advancement. Hearing perspectives and experiences from world-renowned chefs, including: Dominique Crenn, Lidia Bastianich, April Bloomfield, Barbara Lynch, Cat Cora and many more, getting to the heart of what is needed to empower women across all industries, by following the personal story of a small town restaurateur with a larger than life personality Valerie James. A single mother on a mission to do what she loves, while raising two kids and the odds stacked against her. An uplifting American success story about perseverance, family, and food.