Description
You are invited to hear acclaimed artist Mel Chin discuss his work and recent project The TIE that BINDS: MIRROR of the FUTURE.

Sunday September 25, 6:00-9:00pm
A Conversation with Mel Chin at Otis College of Art and Design
Forum, Otis Goldsmith Campus | 9045 Lincoln Blvd, Los Angeles, CA 90045
Originally part of CURRENT: LA Water, LA's Public Art Biennial this summer, Chin's The TIE that BINDS: MIRROR of the FUTURE envisions the city sustained with water-saving California-native landscapes. Eight sample gardens were planted at Bowtie, a stretch of land along the L.A. River. These gardens were duplicated in other "mirror gardens" in Brentwood, South L.A., Porter Ranch, Sun Valley, Boyle Heights, at Occidental College, and at Los Angeles County Museum of Art (LACMA).

Chin is offering a unique blueprint to others who want to establish and maintain a mirror garden in their own yards. A total of up to 512 blueprints are available on a first-come, first-commit basis to those who will help to realize – and own – part of this citywide land art project.

Come meet the artist, hear about The TIE that BINDS, and receive a free blueprint to start your own mirror garden. Become a part of this ongoing, collective land art project that will save millions of gallons of water annually in LA.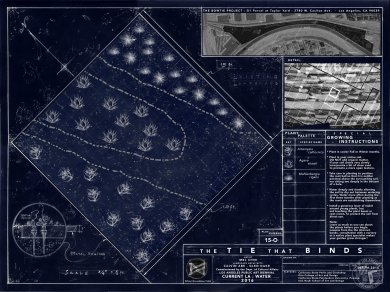 The TIE that BINDS was commissioned by the City of Los Angeles Department of Cultural Affairs (DCA) for CURRENT:LA Water, the City's inaugural Public Art Biennial. The project is realized in partnership with the California State Parks and Clockshop. The landscape concept and garden designs are a collaboration between the artist Mel Chin, landscape architects Calvin Abe and Glen Dake, with advice from Lili Singer of the Theodore Payne Foundation for Wildflowers and Native Plants. Garden installations and additional support provided by Pierre Landscape with plants generously supported by Village Nursery. Additional partners include designer Tom Kracauer, California State Polytechnic University, Pomona, USC Roski School of Art and Design, and Otis College of Art and Design.
This event is co-sponsored by the Otis College of Art and Design MFA Public Practice program and the USC Roski School of Art and Design in partnership with California Polytechnic University, Pomona Department of Landscape Architecture.
.
MORE INFO ABOUT THE PROJECT: http://the-tie-that-binds.org/