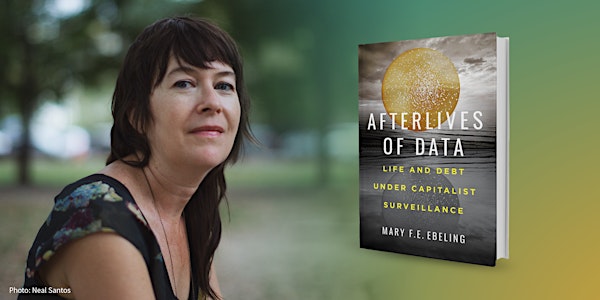 A Conversation with Mary Ebeling, author of 'Afterlives of Data'
Mary F.E. Ebeling, PhD, author of "Afterlives of Data," will discuss her books and the insights she has gained through her research.
By Institute for Informatics (I2) at WashU
Date and time
Thursday, March 30 · 9:30 - 10:30am CDT
Location
John M. Olin Library 1 Brookings Drive St. Louis, MO 63130
About this event
Thursday, March 30, 2023
A conversation with the author followed by audience Q&A and a reception.
Registration is required to attend this event — please click the "reserve spot" button on this page to proceed with registration.
Hosted in partnership with The Cordell Institute, Bernard Becker Medical Library and Washington University Libraries.
Symposium: Friday, March 31, 2023
Separate registration is required to attend the symposium. Proceed with registration here: I2symposium2023.eventbrite.com
Mary F.E. Ebeling, PhD, is a professor of sociology and an affiliate faculty member in the centers for science, technology & society, communication, culture & media (CCM), and women's & gender studies at Drexel University.
Her research examines the intersections of gender, race, digital technologies, data privacy, health marketing and medical capitalism. She was a visiting researcher at the Institute for Informatics (I2) at Washington University School of Medicine in St. Louis, and a fellow at the Wolf Center for the Humanities at the University of Pennsylvania, the University of Surrey, (UK), Victoria University in Wellington (New Zealand), and the Institute for International Education (Fulbright Fellowship) in Zimbabwe. Her research has been funded by the National Science Foundation, the Advertising Education Foundation, the European Union's 5th Framework, and the Economic & Social Research Council (UK). Her most recent book, "Afterlives of Data: Life and Debt Under Capitalist Surveillance" (University of California Press 2022), examines data and debt subjectivities in healthcare through the cross-sector uses of clinical and other private health information by data brokers for marketing and other non-health related purposes. "Afterlives" reveals the industrial and legislative processes that Big Tech and information companies use to create data commodities.