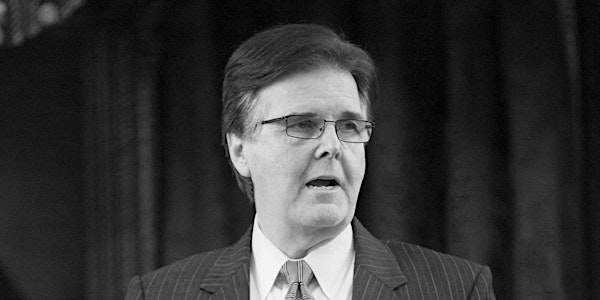 A Conversation with Lt. Gov. Dan Patrick
When and where
Location
The Austin Club 110 E. 9th Street Austin, TX 78701
Description
Join us in person or online for a conversation with Lt. Gov. Dan Patrick.
**This event is at capacity. Please plan to watch on our livestream.

Patrick was sworn in as Texas lieutenant governor in 2015. Previously, he represented District 7 in the Texas Senate and served as chairman of the Senate Education Committee. He was also a member of the Higher Education, Transportation, Criminal Justice, Finance and Redistricting committees. Patrick is the owner of conservative talk radio stations in Houston and Dallas.
---

The Texas Tribune's Conversation Series features in-depth discussions with prominent elected officials and newsmakers moderated by CEO Evan Smith and other expert journalists from The Texas Tribune. Each free event at the historic Austin Club in downtown Austin features coffee, networking and audience question-and-answer time. You can also watch the event on our livestream if you are unable to attend in person.

This event is supported by CenterPoint Energy, the Texas State University System, the Texas State Alliance of YMCAs, the Beer Alliance of Texas, NRG Energy, UnitedHealthcare and the Texas Association of Freestanding Emergency Centers. The Conversation Series is presented by AT&T, BP, PepsiCo, Walmart, Southwest Airlines –the official airline of Texas Tribune Events – and 85th legislative session sponsor, The University of Texas at Arlington. Additional support is provided by the Hatton W. Sumners Foundation. Tribune events are also supported through contributions from our founding investors and members.
Disclosure: Though donors and corporate sponsors underwrite The Texas Tribune events, they play no role in determining the content, panelists or line of questioning.