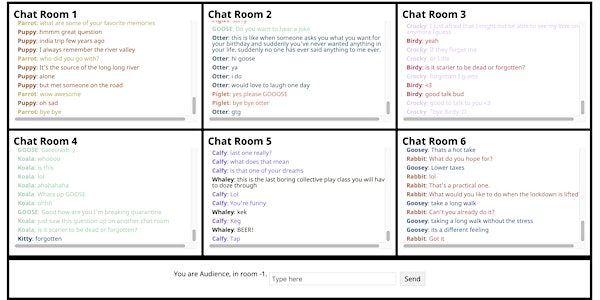 A Conversation - ITP Spring Show 2020
Description
A Conversation is an online experiment orchestrated to explore vulnerability among strangers in the digital realm. You will be assigned a pseudonym and paired up with a stranger in one of three chatrooms. Everything said in each chatroom is visible to each of the other chatrooms.
As you converse with your partner, we urge you to ask yourself: what compels you to keep a conversation going? How honest do you want to be? And how would you like to portray yourself given that you are anonymous?
Each session at most can host 6 players. Please come to this link at your designated signup time: https://nyu.zoom.us/j/94895183404?pwd=emJ3NnhLdklvUkdUOFNBUjdqVFFKUT09
If all the tickets are sold out, you can still join Zoom to observe the conversation.
This is a group project by Na Chen, Tirta Rachman, Schuyler DeVos and Daniel Fries at NYU and advised by Mimi Yin.