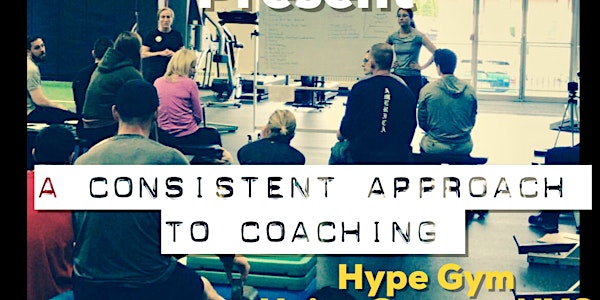 A Consistent Approach to Coaching: Fundamental Positions & Exercises
When and where
Location
Hype Gym Union Square 37 Union Square West #F2 New York, NY 10003
Description
Location: Hype Gym, NYC
Date/Time: Sunday, September 29th 2019. 9:00am-4:30pm (lunch 12:00pm-1:00pm)
Title: A Consistent Approach to Coaching: Fundamental Positions & Exercises
---
Description:
Do you struggle keeping the coaching quality high in a group setting? Can't get buy in on the purpose of breathing and positional work? Do you want to develop clients that are independent and have little to no programing constraints?
If so, Lucy Hendricks and Michelle Boland are providing you a 100% hands on movement journey, where you'll experience the most fundamental weight room movements, built from the ground up.
Have you ever attended a seminar where they picked you as an exercise demo? For 5 minutes, you get to feel what it's like to be coached by the instructor. You get to respond to their verbal and manual cues, which allows you to feel what your clients will need to feel.
Out of all the other attendees who didn't get coached, you'll be more successful getting your clients to execute that exercise correctly.
This workshop allows you to be coached, demo, practice coaching, and walk through some trouble shooting with every single activity! Instead of 5 minutes of personal attention, you'll have a whole day of movement and hands on learning.
If you're wanting your staff under one consistent model, this is the workshop for you and your employees. Learn to develop movement standards where everyone gets to develop their own training talent and skill following the same principles.
Going through Lucy and Michelle's Consistent Training Model will allow you to manage multiple people in one session while keeping the coaching quality high. You will creatively increase your client's movement repertoire by altering load placement and performance variables to drive adaptation in each plane of motion.
---
Objectives:
1) Explain your service in a way that builds client buy in and understanding. This will help set clear expectations which allows the coach to be detailed with the basics.
2) Explain and coach a client through each of the 16 exercise archetypes.
3) Identify the main constraints clients will have when going through each archetype
4) Select appropriate regressions and progressions under each archetype depending on the client's ability.
5) Demonstrate each exercise to give new clients a visual on what they need to do. This allows clients to see what the coach is saying, and it will increase the chances of them executing a new exercise correctly.
---
Schedule:
9:00am-10:00am Lucy and Michelle's Consistent Training Model
10:00am-12:00pm Instruction and Practice of positions and exercises
12:00pm-1:00pm Lunch
1:00pm- 3:00pm Instruction and Practice of positions and exercises
3:00-4:00pm Programming with Lucy and Michelle's Consistent Training Model
4:00-4:30pm Q&A
---
About the Speakers:
Lucy Hendricks is the owner and founder of the Holistic Fitness Connector and co-owner of Enhancing Life (Lexington, KY). She also is the lead instructor at an accredited personal training school, The Lexington Healing Arts Academy Personal Training Program. She is a personal trainer that takes a holistic approach to health and fitness, licensed massage therapist, blogger, and speaker. Lucy is mostly known for her ability to progress people through the basics and getting immediate results from a movement standpoint. She helps coaches who have clients that have been hindered by movement limitations get back to what they love whether it's a competitive sport, general strength training, or living a life without pain. Learn more about Lucy: https://holisticfitnessconnector.com/
Michelle Boland, PhD, CSCS is an exercise physiologist, personal trainer, author, and presenter. She currently is the Director of Education at Pure Performance Training (Boston, MA) and the owner of Michelle Boland Training. She has previously worked as a strength and conditioning coach at Northeastern University (Boston, MA). Learn more about Michelle: http://www.michelleboland-training.com/
---
Testimonials:
"The knowledge and hands on coaching I took away from attending The Trio was worth every dollar and time spent! Michelle, Zac, and Lucy are changing the fitness industry with implementing movements and coaching that are recorrecting so many poor movement patterns. I am a better coach after attending their course, and my clients are a step closer to being happier and healthier as I implement these principles in their training programs." - Lauren
"I know for me as a trainer and business owner it has helped immensely in keeping my team on the same page. Sometimes we don't always get to meet and go over the exercises we are trying with people and do that on the fly. The workshop helped everyone know how we want to cue the exercises but practice with each other and gain more insight through the nature of the hands course. It also helped to know what we are looking from an assessment perspective as well." - Tom
"The Fundamentally Sound workshop is one I would be happy to recommend to other trainers. Lucy and Michelle provide excellent information that I use with my clients on a daily basis. Although there was a lot of information, it was broken down and made applicable to what I do with clients. There was plenty of time to practice what was being taught, receive feedback on my instruction and ask questions. I work with general population and this has given me a great place to start with new clients and as well as improving how I work with the clients I already have. Overall I highly recommend this workshop" - Jeannine
"The best way to learn how to coach exercise is to do it hands ON with experts. That's why I recommend the course taught by Lucy Hendricks and Michelle Boland where you get practical experience that translates the very next day. Not only applicable to personal trainers, their approach is also perfect for physical therapists and other clinicians wanting to get better at coaching. Emphasizing consistency while appreciating the different internal and external environments of individuals are key concepts. You'll leave being able to coach the basics while also understanding how to easily progress and regress exercises as needed. I highly recommend you go!" - Aline