A Community Conversation: The Power of Public Monuments & Why They Matter
Description
The Committee to Renew the Shaw 54th Regiment Memorial Cordially Invites you to a Community Conversation:
The Power of Public Monuments and Why They Matter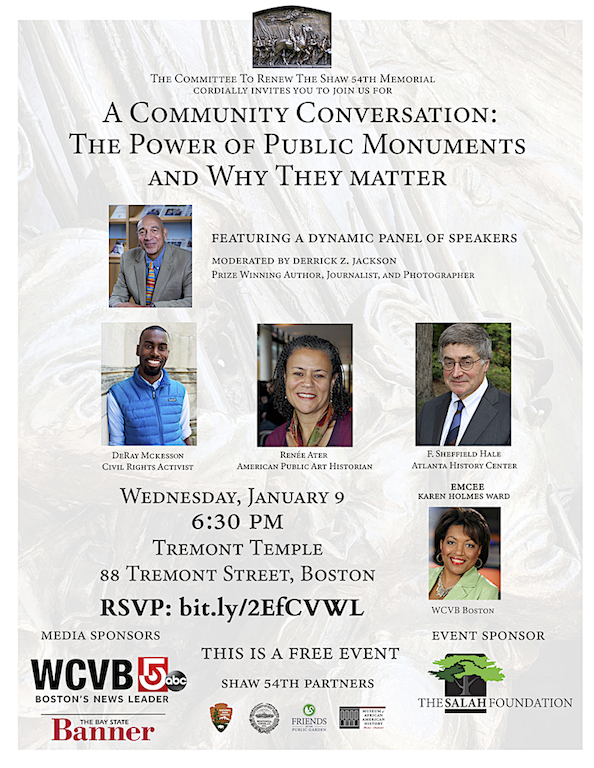 This event is free and open to the public. We hope you can join us at 6:00pm where Project STEP will be performing prior to the program start and/or at the dessert receptiion to follow the program.
Questions or for more information, call 617-427-0046 or email shaw54thmemorial@gmail.com.
The Shaw 54th Memorial on the Boston Common has been called "one of the monuments that changed America." More than 120 years old, the Memorial is positioned strategically on Boston Common opposite the Massachusetts State House. We hope this conversation will deepen the community's dialogue about race, freedom, and justice and raise awareness of the significance of the memorial and the story it tells.
---
About the Renewal of the Shaw 54th Regiment Memorial


The Shaw 54th Regiment Memorial is at the heart of a powerful narrative that unfolds along Boston's Black History Trail. The sculpture and its foundation requires significant upgrades to assure its longevity. A new partnership has been established to undertake a complete $2.8 million restoration of the Memorial to stabilize the monument. The work is scheduled to begin in the summer of 2019.