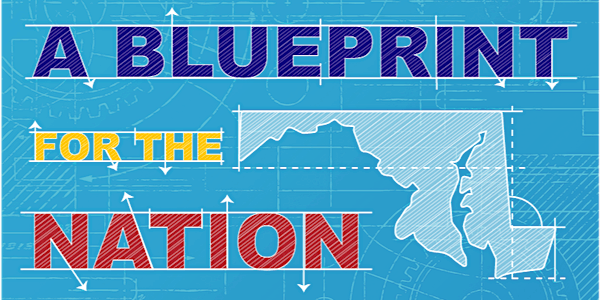 A Blueprint for the Nation: Lessons from Maryland's Commission on Innovation and Excellence in Education
Date and time
Thursday, June 6, 2019 · 8:45am - 1pm EDT
Location
American Association for the Advancement of Science 1200 New York Avenue Northwest Washington, DC 20005
Description
Join NCEE for an in-depth look at the groundbreaking work of the Maryland Commission on Innovation and Excellence in Education – the most ambitious comprehensive state-wide school reform effort undertaken in the last quarter century.

Released in early 2019, the Commission's Interim Report is a sweeping redesign of the state's education system based on the strategies used by the highest-performing education systems in the world, coupled with a unique design for accountability. The report brings new life and a different meaning to the school reform movement in the United States by providing a comprehensive template for the redesign of state school systems across the country.

Hosted by NCEE, the Commission's primary policy consultant, the event will be held at the American Association for the Advancement of Science in Washington, DC on June 6 and feature commentary from Commission members, leaders of Maryland's policy, business and education sectors, and national education leaders.
The event will be livestreamed here.
Scheduled speakers include:
Peggy Brookins, President, National Board for Professional Teaching Standards
Betsy Brown Ruzzi, Vice President, NCEE
Linda Darling-Hammond, President and CEO, Learning Policy Institute
David Driscoll, Former Commissioner of Education, Commonwealth of Massachusetts
Chester Finn, President Emeritus, Thomas B. Fordham Institute
Rachel Hise, Lead Principal Analyst, Maryland Department of Legislative Services
David Hornbeck, Former Superintendent of Schools, Maryland
Lynn Kagan, Virginia and Leonard Marx Professor of Early Childhood Education and Family Policy, Teachers College
Brit Kirwan, Chair, Commission on Innovation and Excellence in Education
Chris Lloyd, President, Montgomery County Education Association
Anthony Mackay, President and CEO, NCEE
Paul Pinsky, State Senator, Maryland
Paul Reville, Francis Keppel Professor of Practice of Educational Policy and Administration, Harvard Graduate School of Education
Craig Rice, Councilmember, Montgomery County Council
Joy Schaefer, Vice President, Frederick County Board of Education
Jack Smith, Superintendent, Montgomery County Public Schools
David Steiner, Director, Johns Hopkins Institute for Education Policy
Marc Tucker, President and CEO Emeritus and Distinguished Senior Fellow, NCEE