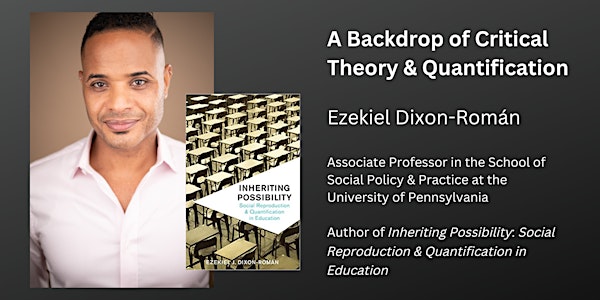 "A Backdrop of Critical Theory & Quantification" (VIRTUAL)
Join us for a talk by Ezekiel Dixon-Román, Associate Professor in the School of Social Policy & Practice at the University of Pennsylvania.
About this event
Critical theory has been increasingly in dialogue with quantification. Much of this is due to the datafication of society; yet, another discourse pertains to a rethinking of critical theory in relation to methods of quantification. This talk will lay the philosophical and theoretical background and challenges to quantification, why they matter, and why they matter especially in relation to blackness. The talk will also speak to how those challenges have also become a condition of possibility for rethinking the onto-epistemologies of quantification.
Speaker
Ezekiel Dixon-Román is an Associate Professor in the School of Social Policy & Practice at the University of Pennsylvania. His research seeks to make cultural and critical theoretical interventions toward rethinking and reconceptualizing the technologies and practices of quantification as mediums and agencies of systems of sociopolitical relations whereby race and other assemblages of difference are byproducts. He is the author of Inheriting Possibility: Social Reproduction & Quantification in Education (2017, University of Minnesota Press); the recipient of the 2018 Outstanding Book Award from the American Educational Research Association. He is currently working on a book project that examines the haunting formations of the transparent subject in algorithmic governance and the potential transformative technopolitical onto-epistemologies.
Attendance Options
Register using this page to receive a link to the event live stream. Please note that virtual attendees will not be able to participate in Q&A due to the limitations of the live stream platform.
Registration is not required to attend in person:
Location: Brown University, Friedman Hall, Room 208, Providence, RI 02912. Click here to see this venue on Google maps.