A 6-Part Series: Exploring Challenges to Mental and Spiritual Health in the...
Description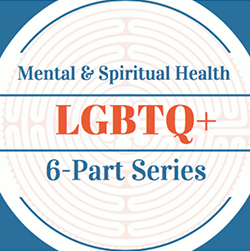 Blanton Peale Presents
Wednesdays, April 26-June 14
6pm-8pm
Intersections International
145 W 28th Street, 11th Floor, NYC
A 6-Part Series: Exploring Challenges to Mental and Spiritual Health in the LGBTQ+ Community.

Prices are $40 per session and $200 for the entire series.
Scholarships are available.
Please contact Diana Barone for more information
As the LGBTQ+ community becomes more visible-with the Millennial generation twice as likely to identify as LGBT compared to adults of all ages-it is important for leaders, including those in spiritual and mental health settings, to continue to be educated on the challenges this population faces, and the support that can be offered.

Many already have been leading the way!
Over the next three months, Blanton-Peale Institute & Counseling Center, in partnership with Believe Out Loud (Intersections International) and Parity, presents this 6-part series to explore how we can best support LGB people of various intersectionality, Trans people, LGBTQ youth, same-sex couples and their children, and those who identify outside of the LGBTQ spectrum.

Who could benefit from the series?

LGBTQ+ people and allies who lead a small or large groups that include LGBTQ+ people and want a better understanding of mental health challenges.

Religious or spiritual leaders (clergy, small group leaders, board members, or other leadership roles).

Mental Health professionals and others who work with the LGBTQ+ community who want a deeper understanding of religious and spiritual experiences and religion's mental health impacts on LGBTQ+ people.
Join Us!
Become part of a learning community: enjoy expert presentations, panel discussions, and activity workshops. Also come ready to share your own experiences, wisdom, and resources with others so all attendees can take away more tools to support the LGBTQ+ community.

For more information please contact DBarone@BlantonPeale.org
Register for 1 or more sessions or all 6:

April 26
LGBTQ+ Mental Health Overview
Amanda Mays, LMSW (Blanton-Peale)
Rafael Martinez, LMSW (Callen-Lorde)
May 3
A Panel Discussion: Impact of Religion on LGBTQ+ People
Moderator: Rev. Marian Edmonds-Allen (Parity)
Panel: Abby Stein, Jonathan Benz, Keisha McKenzie, PhD (Believe Out Loud), Sontaia Briggs
May 10
LGBTQ+ People and Families: From Acceptance to Family Creation
Rev. Marian Edmonds-Allen (Parity)
Rev. Elizabeth Edman and Staff from the Ackerman Institute Gender & Family Project
May 24
A Panel Discussion: Intersection of Race, Class, Power, and Privilege in the LGBTQ+ Community
Moderator: Amanda Mays (Blanton-Peale)
Panel: Keisha McKenzie, PhD (Believe Out Loud)
Additional panelist to be announced
June 7
Dealing with Shame, Trauma, and Addiction in the LGBTQ+ Community
Kim Hertz, LCSW (Blanton-Peale)
Jonathan Benz
June 14
Sex and Sexuality in the LGBTQ+ Community
Avigail Hurvitz-Prinz, LMSW (Blanton-Peale)