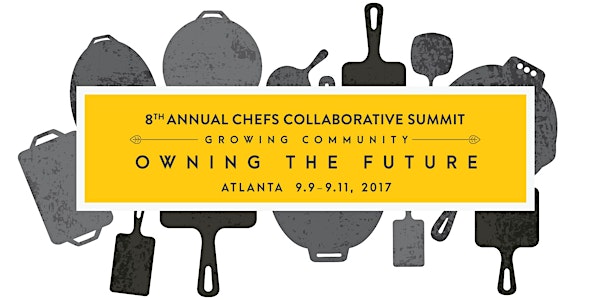 8th Annual Chefs Collaborative Summit
When and where
Location
Atlanta Atlanta, GA
Description
Chefs Collaborative's 8th Annual Summit, Growing Community – Owning the Future, will take place in Atlanta in September, set against the backdrop of the city's most iconic landmarks, such as the Fox Theatre, Atlanta Botanical Gardens and Ponce City Market. Join us for engaging presentations, hands-on workshops, delicious shared meals and celebrations, and networking with other chefs and food professionals who are building a better food system. Together, and across some of the best sites in the region, we'll explore current issues and solutions through the lens of community collaboration and owning our collective future. Topics will include Seafood Solutions, Food Waste, Storytelling and Publishing, Meat Matters, Plant-forward and more.
Optional Friday and Saturday Field Trips:

Overnight at White Oak Pastures: Farm Visit and Abattoir Tour
with Will Harris
Lamb Break Down: Lamb Sourcing, Butchering and Grilling
with Adam Danforth, Craig Rogers and Chef Michael Costa (sponsored by The Big Green Egg and American Lamb Board)
Preservation Workshop
with Chef Hugh Acheson and Food Alchemist Jovan Sage featuring Georgia Bounty at Jaemor Farms (sponsored by Greener Fields Together)
Kevin Gillespie's Peachtree Road Farmers Market Tour
Optional evening events (included in all General Admission tickets):
Sunday Georgia State Fair Dinner
featuring Anne Quatrano, guest chefs, mixologists, and live music
Rooftop Reception at Ponce City Market
featuring bites and sips from Atlanta chefs and mixologists
Read about our Breakout Sessions on Sunday, included with General Admission and Sunday tickets.
Join chef Daniel Patterson (Coi, Alta, LocoL), chef/farmer Matthew Raiford (The Farmer and the Larder/Gilliard Farms), Merry Edwards (California Sustainable Winegrowing Alliance), Stephen Satterfield (Whetstone Magazine), chef Anne Quatrano, chef Steven Satterfield (Miller Union), Nicolette Hahn Niman (BN Ranch), Kim Severson (The New York Times), Tamara Jones (Southeast African American Farmers Organic Network), U.S. Rep. Chellie Pingree (D-ME), Paula Daniels (Center for Good Food Purchasing), Michiel Bakker (Google Food), and more!
Chefs Collaborative Members receive exclusive access to discounted General Admission tickets ($750)! Not a current member? Join and save! Current culinary student? Contact us (info@chefscollaborative.org) for a student rate.
Your Summit General Admission ticket includes access to three days of keynotes, presentations, and Breakout Sessions like: Nose to Tail Storytelling; Seafood Solutions; Grains and Beer with Chef Paul Fehribach; Avoiding Food Waste with Chef Steven Satterfield; and Value from Your Values.
Also included is a once-in-a-lifetime treat when chef Anne Quatrano opens her doors for a special Georgia-themed evening meal at the highly anticipated new incarnation of her legendary culinary landmarks, Bacchanalia and Star Provisions. We hope you will join us in Atlanta for this inspiring annual event!
"I will be leading a group of Atlanta's chefs backed up with the enthusiastic support of local farmers and food purveyors. By changing our menus, we believe we change the lives of our suppliers, our customers, and the world we all share. Chefs and food professionals are powerful change agents, and we need more change makers at the table."
-- Atlanta Host Committee Leader chef Steven Satterfield (Executive Chef and Co-Owner, Miller Union, Atlanta Chefs Collaborative Local Group Leader)

---
Want to get involved?

Not a current member? Join and save! - Join hundreds of chefs and food professionals across the country who care about how they source, cook, and serve food and are doing their part to create a better food system. Join now to take advantage of discounted member-only pricing for Chefs Summit.
Become a Sponsor (info@chefscollaborative) - Connect with the nation's sustainable chef community and support their work changing menus and changing lives.