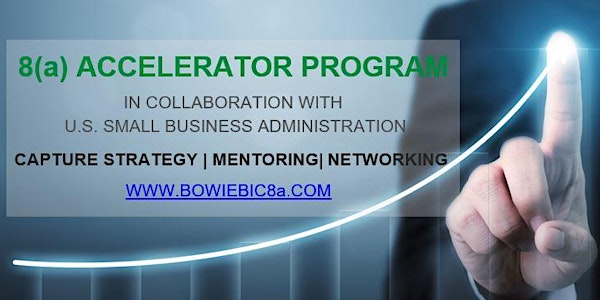 8(a) Accelerator Program Briefing
Bowie Business Innovation Center, our resource partners, mentors and program graduates introduce our award winning 8(a) Program!
About this event
Bowie BIC is a Business Accelerator program with office and collaborative workspace for technology companies and government contractors, located on the campus of Bowie State University. Our results-driven, seven-week 8(a) Accelerator program is focused on giving certified 8(a) businesses like yours, the edge they need to win more government contracting business using their 8(a) certification. The 57 companies, who participated in our three previous 8(a) Accelerator program cohorts, already report more than $32 million in new contract awards.
Bowie BIC's 8(a) Accelerator connects you with, with additional government contracting resources, free market intelligence tools, and mentors who are successful graduates of SBA's 8(a) program.