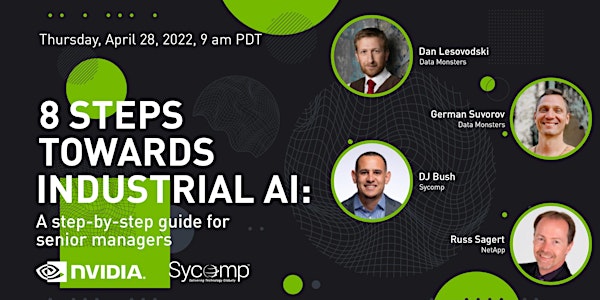 8 steps towards Industrial AI: a step-by-step guide for senior managers
This session is meant to empower you with knowledge and tools to succeed in AI
About this event
Are you willing to implement AI in your organization?
Don't know where to start?
Maybe you've tried and failed?
This practical session will help you:
establish and clarify your understanding of AI core concepts,
learn about the best AI use-cases in your industry,
understand what 5 areas should be managed within an AI project,
set up your next actions towards your goal.
During the session, we will cover 8 steps and topics:
"What is AI?", "How does AI work?, and "What can and can't AI do?
The most popular AI use cases in manufacturing.
How to spot a feasible and valuable AI use-case that relates to your needs
How to estimate AI projects and evaluate ROI? The cost structure.
Assessment, PoC, Pilot - The major phases of an AI project's life cycle.
What can go wrong? The main risks in AI projects.
Success or failure? Terminate or continue? Setting the right acceptance criteria.
Scaling challenges. How to go beyond a PoC?
Who can benefit from this session?
If you're a manager or director striving to make the most out of AI, and you work in one of these industries:
Automotive Manufacturing
Food & Beverages
Electronics & Semiconductors
Logistics & Supply Chain
What you get:
Use-cases
AI building blocks
Best practices in AI project management
and understanding of how to deal with:
Practical AI implementation
AI team roles & expectations
Investment in AI: risks, deliverables, expenses
How to measure success
Agenda (60 minutes):
Interactive survey for the most pressing issues in your AI journey
Tools and methods for resolving chosen issues
Overview of AI frameworks and tools
Defining your next step: How to proceed in your AI journey; How to benefit from an NVIDIA-sponsored AI adoption program.
Q&A
Experts
Piyush Modi, Ph.D. - Business Development & Chief Strategist, Industrial Sector at NVIDIA,
German Suvorov, Ph.D. - Head of Industrial AI at Data Monsters,
Artemy Malkov, Ph.D. - CEO of Data Monsters.