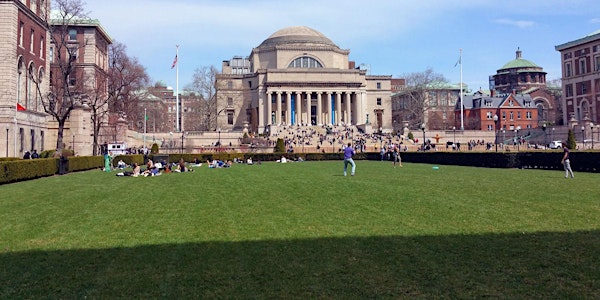 7th Digital Finance Summit
Decentralized Finance, Payments, and Financial Inclusion
When and where
Location
Columbia University, Faculty House 64 Morningside Drive New York, NY 10027
Refund Policy
Contact the organizer to request a refund.
About this event
The Columbia Institute for Tele-Information's DFSO 7th Digital FinanceSummit brings together some of the world's leading experts and regulators to discuss the innovation and trends impacting financial ecosystems around the world.
Attendees will learn about the impact of blockchain technology,crypto-currencies, and fintech on payments, banking, and compliance.Fintech investors and innovators will provide insight into what they see as the trending focus areas .
Expert panels will discuss the implications of new cybersecurity threats, the needs for new types of regulations, new identity systems, as well as emerging technologies such as quantum computing and artificial intelligence.
Keynote
Linda Lacewell
Superintendent, New York State Department of Financial Services
See: http://summit.dfsobservatory.com/agenda/ for most up to date agenda.
Last Updated 2/5/2020
08:00-08:40AM REGISTRATION
08:40-09:00am Introduction To Conference
Dr. Leon Perlman, Head, DFS Observatory, Columbia Business School
F. Christopher Calabia, Senior Advisor for Supervisory & Regulatory Policy and Senior Program Officer, Bill and Melinda Gates Foundation
09:00-09:30am Keynote I
Linda Lacewell – Superintendent, New York State Department of Financial Services
09:30-10:20am Blockchain: The role of distributed ledger and blockchain technology in the financial ecosystem
Moderator: Sandra Ro, CEO, Global Blockchain Business Council (GBBC)
Jeff Horowitz, Chief Compliance Officer, Coinbase
Puneet Singhvi, Managing Director, Citibank
Fennie Wang, Associate General Counsel, Maker Foundation
Prof. Donna Redel, Professor of Law, Fordham University
Michael Gronager, CEO & Co-Founder, Chainalysis
10:20-11:10am Innovators & Incubators: The state of fintech innovation
Moderator: David True, Partner, PayGility Advisors
Yossi Hasson, Managing Director, Techstars Blockchain Accelerator
Bruce Lincoln, Co-Founder, Silicon Harlem
Sunil Madhu, CEO & Founder, Instnt
Samantha Roady, Chief Operating Officer, Money Lion
Kimberly Quinones, Executive Director, NYC Blockchain Center
11:10-11:25 AM COFFEE BREAK
11:25-12:15pm Investors: Strategies in fintech and blockchain technologies
Moderator: Christienne Genaro, Board of Directors, NYPAY
Bartek Ringwelski, Partner, Core Innovation Capital
Michael Moro, CEO, Genesis
Seth Masters, Member, NY Angels
Monica Brand, Partner, Quona Capital
Drew Propson, Lead, Financial Servcies, World Economic Forum
12:15-01:05pm Payment and Banking Innovations: Legacy and decentralized payment and banking innovations driving access to finance
Moderator: Ulrike Guigui, Managing Director, Deloitte
Ravi Aurora, SVP Global Policy Affiars & Community Relations, Mastercard
Dr. Elena Yndurain, Global Financial Services Lead, IBM
Yelena Reznikova, Partnerships, Plaid
Ayeesha Sachedina, Head of Cross Product Solutions, Bank of America
Sunayna Tuteja, Director of Emerging Technologies, Innovation & Strategic Partnerships, TD Ameritrade
01:05-02:00PM LUNCH
02:00-02:50pm Identity, AI and Privacy: The role of identity in securing access and ensuring privacy in financial ecosystems
Moderator: Deborah Baxley, Chair, Mobile and Contactless Payments, US Payments Forum
Elizabeth M. Renieris, Fellow, Berkman Klein Center, Harvard University
Prof. Jeannette Wing, Avanessians Director, Data Science Institute, Columbia University
Matthew Davie, Chief Strategy Officer, Kiva
David Medine, Senior Financial Sector Specialist, CGAP
Kinga Partyka, Strategic Accounts Lead and Client Facing Data Scientist, DataRobot
02:50-03:45pm Legal and Regulatory: Legal and regulatory developments in finance and blockchain technologies
Moderator: Carol van Cleef, Counsel, Bradley
Joshua Klayman, Head of Fintech/Blockchain, Linklaters
Prof. Aaron Wright, Associate Clinical Professor, Director of Cardozo Blockchain Project, Cardozo Law School
Daphna Waxman, Senior Attorney, Cyber Unit of the Division of Enforcement, US Securities and Exchange Commission (SEC)
Melissa Netram, Chief Innovation Officer and Director, LabCFTC, US Commodity Futures Trading Commisssion (CFTC)
Matthew Homer, Executive Deputy Superintendent of Research and Innovation Division, New York State Department of Finance Services
03:45-04:05PM COFFEE BREAK
04:05-04:55pm Financial Inclusion: The role of digital financial services and blockchain technologies in enhancing financial inclusion globally
Moderator: David Symington, Policy Advisor, Inclusive Finance for Development, UN Secretary-General's Special Advocate for Inclusive Finance for Development
Dara Duguay, CEO, Creditbuilders Alliance
Karen Miller, Global Head, Leadership and Diversity, Womens World Banking
Amr Ahmad, Head of the Financial Inclusion Unit, Central Bank of Jordan
Evelyn Stark, Assistant Vice President, Financial Inclusion, Metlife Foundation
Stella Klemperer, Strategy Manager, Flourish
04:55-05:50pm Cybersecurity: Cybersecurity and cyber-resilience initiatives and strategies in securing financial & telecom systems
Moderator: Keith Bowie, Research Scholar, DFS Observatory, Columbia Business School,
Alex Schlager, Executive Director, Security Services, Verizon
Amit Kachhia-Patel, Supervisory Special Agent, Cyber Branch, FBI
Jason Healy, Senior Research Scholar, School of International Public Affairs, Columbia University
Cassandra Lentchner, Senior Counsel, Pillsbury Winthrop Shaw Pittman, LLP
Katheryn Rosen, Managing Director, Technology & Cybersecurity Policy and Partnerships, JP Morgan Chase
Lesly Goh, Senior Technology Advisor, World Bank Group
05:50-06:00pm Conference Conclusion and Closing
Michael M. Wechsler, Research Scholar, DFS Observatory, Columbia Business School
06:00-07:00PM NETWORKING RECEPTION