Description
Hello friends! We are back for the 7th Annual SK Family BBQ! This year we'll be gathering in Bridgeport, CT on June 16th-18th 2017. Conveniently located just a short drive from New York City, Boston and Hartford airports, Bridgeport, CT is home to SK's early stomping grounds!
There will be two sets each on Friday and Saturday at The Acoustic. In addition to the concerts there will be a BBQ and lawn games on June 17th.
We've partnered with the beautiful Trumbull Marriott and have a fantastic rate for folks wishing to travel in for the weekend. To book a room with the SK Family BBQ rate, go to http://tinyurl.com/zbldbbz You are also welcome to call central reservations at 1.800.682.4095 or visit www.marriotttrumbull.com and enter the group code: SKFSKFA in the "Special Rates & Awards".


What is it?
This is essentially the ultimate #KelloggtownVIP experience, but whereas #Kelloggtown is a meet and greet for 15-25 minutes before a show, the #SKFamilyBBQ takes place over an entire weekend. "In 2010 I asked myself the question of what would I want to do with my favorite artists? The answer I kept coming back to was, grab a burger, play some lawn games, hang out, ask them a few questions, hear a few stories, maybe hear some tunes that I wouldn't get to hear at a normal show." So that's what we've curated here.

A weekend worth traveling in for. A weekend with many of our core fans from around the globe and in some cases, their growing families. The event has been held in Washington DC three times and Western MA twice. We are thrilled to announce the Family BBQ's return to Southern CT where Stephen lives with his family. It's our first time in CT since it's inception in 2010.


What does my ticket price include?
-Each ticket includes entrance to Friday and Saturday Night Concerts
-BBQ Lunch and attendance to Game Day & Kids Concert at Unity Park
-Commemorative Signed Event Poster
-3 Votes per ticket on the Saturday Night All Request Set
-Access to Friday's Lyric Writing Seminar with SK
-Discounted Rate at the Host Hotel Trumbull Marriott
-Photo and official Meet and Greet with SK and the South, West, North, East
-10% off promo code at the Online Kellogg Family Store


When and Where is it?
June 16th and 17th, 2017 at the Acoustic in Bridgeport, CT.
June 17th (Day) at Unity Park in Trumbull, CT
The host hotel is The Trumbull Marriott in Trumbull, CT and we have a specific discount for our event
All scheduled events are within about 10 minutes of each other.


What's the schedule of events?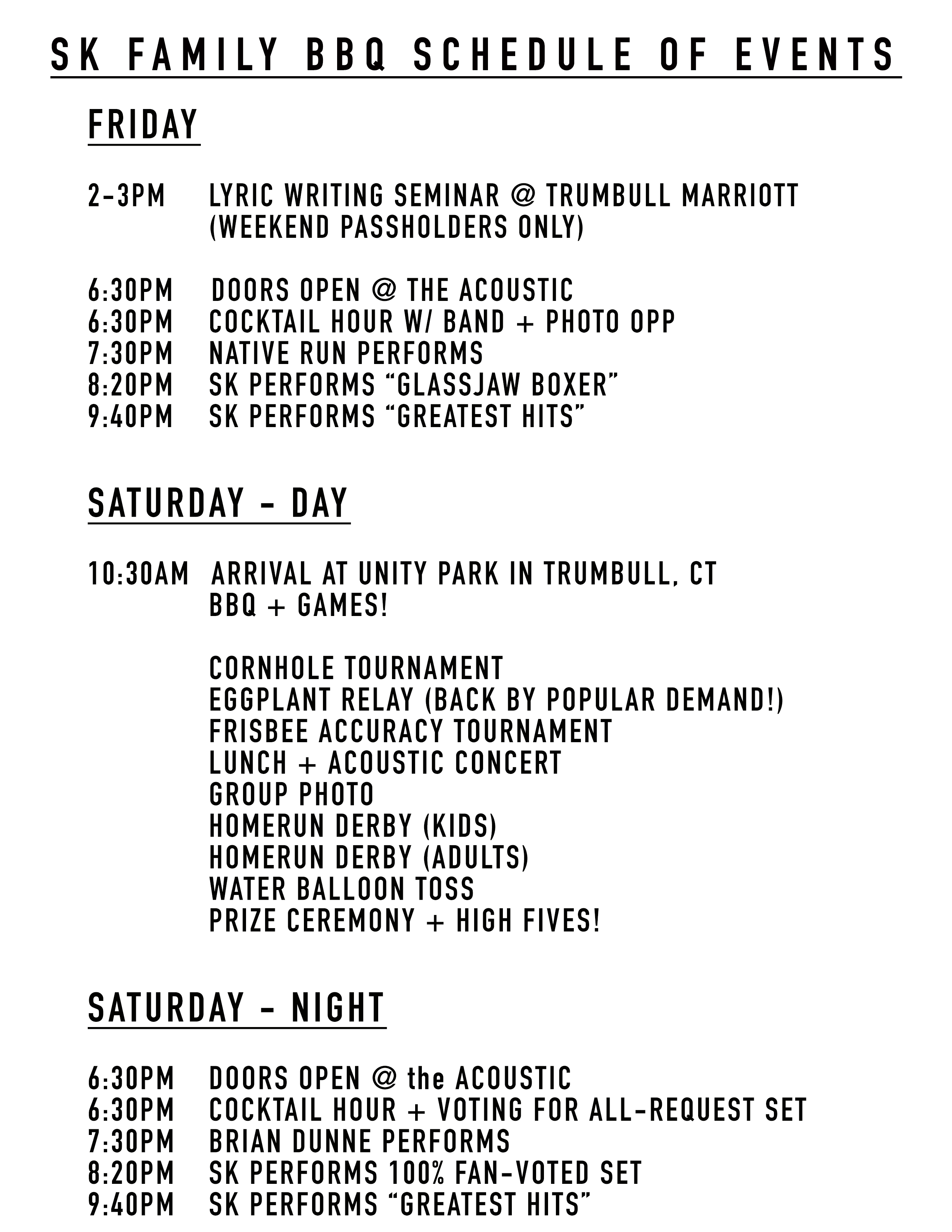 Friday 6/16
2pm: Lyric Writing Seminar at the Trumbull Marriott (must have weekend pass to attend, & RSVP is neccesary)
6;30pm: Doors, Photos with SK & SWNE, Cocktail Hour
7:30pm: Concert #1 at the Acoustic in Black Rock, CT:
2926 Fairfield Ave, Bridgeport, CT 06605
First we'll hear a set from very special guests, Native Run. At 8:20pm is the "Glassjaw Boxer" 10 year Anniversary set. The album will be played in order, in it's entirety. Then for their second set starting at 9:40pm, we'll hear a "Greatest Hits" offering from SK & SWNE.
Saturday 6/17
10:30am: Arrive at Unity Park in Trumbull, CT
399 White Plains Rd, Trumbull, CT 06611
BBQ, Lawn Games & Kids Concert
-Lawn Games: Corn Hole Tournament, Eggplant Relay, Frisbee Accuracy Tournament, Tug-O-War
-BBQ Lunch (Burgers, Dogs, Veggie Burgers, Chips, Drinks, etc)
-Acoustic Kids Concert (this show is geared towards giving the younger ones a bit of music)
-Group Photo
-More games! Home Run Derby (kids/adults separately), & Water Balloon Toss
-Prize Ceremony (the winners of the events will win exclusive SK memorabilia & lots of high fives!)
6;30pm: Doors,Cocktail Hour, & voting on the "All Requests Set"
7:30pm Concert #2 at the Acoustic in Black Rock, CT:
Brian Dunne opens the show! For their first set at 8:20pm, Stephen and the band will be fielding a 100% fan voted on set. They will play the top selections of deep cuts and B-Sides as voted on by the Saturday Night audience. The second set, which starts at 9:40pm, will be another "Greatest Hits" offering from SK & SWNE.


Is it All Ages?

Yes it is. All children are different, and we'll leave it to you to gauge if it's something you think your kids would be into. The venue this year is a bar that we have rented out and each night there are two sets, so it may go later than some kids would be up for. The night shows are traditional SK shows, so it's something for everyone. Only you know your family, and they may want to attend the day show, and have a Mom and Dad's night out in the evening to enjoy drink specials. SK's family will be there taking part in the weekend festivities, and it's one of our great joys to see families come out together.


Will there be day passes?
YES! Few are left, & they are available for $35. It includes everything that happens on Saturday during the day at Trumbull Park.

What about tickets for just the shows?
Also yes! There are a very, very limited number available for $37.50 for each night. If you'll be around the whole weekend, the best deal is to buy the All Inclusive Weekend Pass!