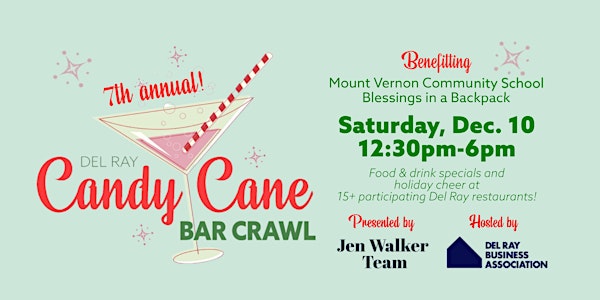 7th Annual Del Ray Candy Cane Bar Crawl
Holiday themed bar crawl in Del Ray, Alexandria! Festive cocktails, music, costume contests, photos, raffles, swag bags and more.
When and where
Location
Del Ray Restaurants Along Mount Vernon Avenue in the Del Ray neighborhood of Alexandria Alexandria, VA 22301
About this event
*Northside10 & HopsN Shine Check-In Locations have room for more!
Want to attend for free? Volunteer and receive a complimentary ticket and bar crawl t-shirt! Click here to signup
Grab your most festive holiday gear and get ready for an afternoon of community cheer, cocktails, raffles and much more for a great cause! The 7th Annual Del Ray Candy Cane Bar Crawl takes place Saturday, December 10th from 1-6pm, and is a fundraiser for Blessings in a Backpack , which mobilizes communities, individuals, and resources to provide food on the weekends for school-aged children across America who might otherwise go hungry.T he first 250 registrants receive a swag bag, which includes a16 oz event souvenir cup and other goodies.
Advance tickets are $15 ($25 at the door), and include specials on holiday cocktails, beers, and food at each of the 15+ participating restaurants, trolley transportation, raffles, trivia contests, swag, photo booth, and a costume contest (best dressed awards for individual, couple, and group). Tri-blend bar crawl long sleeve t-shirts available for purchase with each ticket and will be at the door until supplies run out.
Early Check-in Locations: (*Swag Bag Registrants Cannot Change Locations)
Lena's Wood-Fired Pizza & Tap : 12:30-3PM
Northside10: 12:30-2:30PM
Hops N Shine (3410 Mt. Vernon Ave)  - 12:30-2:30PM - Location Full For Pre-Registers
Late Check-In:
Pork Barrel BBQ (2312 Mount Vernon Avenue) from 3:00PM-6:00PM only.
Participating restaurants (will be updated as they register): Barkhaus, Hops N Shine, Pork Barrel BBQ, Lena's Wood-Fired Pizza & Tap, Del Ray Pizzeria,, Northside10, Spice Kraft, Los Tios, Cheesetique, Piece Out, Joy on the Ave, St. Elmo's Coffee Pub, Market to Market, Evening Star, Matt and Tony's, Kaizens,, Lost Boy Cider (Outdoors), Bella Napoli, The Garden, Elo's Italian.
For complete details on holiday events in Del Ray, visit www.visitdelray.com.