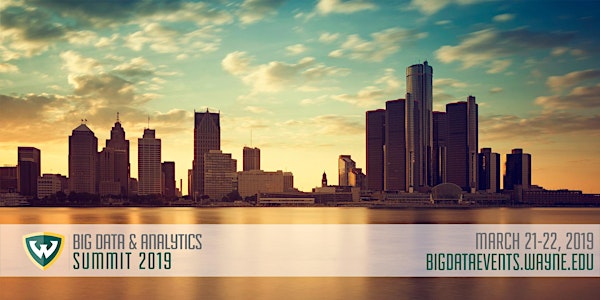 6th Annual Big Data & Analytics Summit @ Wayne State University
Description
REGISTRATION IS CLOSED - EVENT SOLD OUT!


6th Annual Big Data & Analytics Summit
The 2019 annual summit on Big Data & Analytics will be held on March 21 & 22, 2019 at the Student Center Building at Wayne State University.
This summit focuses on pragmatic issues faced while deploying big data strategies to drive business success. It has a special focus on managing and analyzing the data captured through marketing, product development, manufacturing, distribution, sales, and service in a global setting.
Summit attendees gain keen insights and learn tips on identifying big data opportunities, developing business cases, and using analytics to drive business success. The summit also seeks to provide a clear distinction between legacy analytics that are pervasive in industry and the emerging next generation tools, technologies, and processes that will form the foundation for a new wave of innovation and growth.
To learn more about our Program Details and Speakers please visit the links to our webpage for more details.
---
---
Join the conversation: #BigDataWSU and #BigDataDetroit
---
A few of our Past Speakers and Sponsors Include:
---
For Questions, please contact Mark Garrison at 313-577-5683.
Organizer of 6th Annual Big Data & Analytics Summit @ Wayne State University
The AI, Big Data & Analytics Group has a team of more than 50 faculty members and 70+ research students, who come from various departments in the university but collaborate together to work on big data and business analytics projects. The team is structured by six focus areas that cover the entire big data and analytics life cycle from acquiring big data to extracting business value from it. These focus areas are: Big Data Value Management, Methods and Techniques, Integration and Management, Automotive and Defense Analytics, Healthcare Analytics, and Service Analytics.