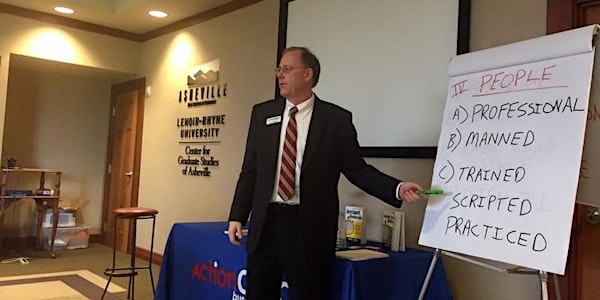 6 Steps to Create an EPIC Business
When and where
Location
Crowne Plaza 1 Resort Drive ASHEVILLE, NC 28806
Refund Policy
Contact the organizer to request a refund.
Description
Please join ActionCOACH, Empire Business Brokers, PNC Bank, Kudzu Brands, Trout Insurance, Engage and Grow, Luv4 Marketing and P5 Sports for a thought provoking discussion with Bill Gilliland on how to turn your company into the type of business you desire and deserve. An EPIC Business.
Fast, Insightful, Game-changing
Disruption is all around us. These are truly amazing times. Things are moving faster than we ever thought possible.
This unique fast-paced, full-on, high impact event gives you skills and insights to build your business in these times in amazing ways — and it does it brilliantly by showing you how to unleash the power of tiny, tiny actions that make a significant and positive difference to your business. Instantly.
Most ideas cost nothing to implement (because they're so small) yet the impact they have is profound. And best of all, you can put them into action immediately.
It's like a whole new world opening up as Bill takes you on a deep dive into what he calls 'Moments of TRUTH', moments that radically REdefine how you do business.
Here's What You'll Learn...
MASTERY: How to Build a solid foundation that will lead to serious growth. And put the fundamentals in place, like delivering at a PROFIT and driving Key Performance Indicators that lead to CUSTOMERS, REVENUE, and bottom line PROFIT. Learn not to wait till month, or year end to see how you did.
NICHE: How to Transition from being a "search light" that looks everywhere for clients, into being a "lighthouse" that naturally attracts perfect customers and gets them to purchase again and again.
LEVERAGE: How to Turn your business into a well-oiled machine that runs whether you are there or not … one that works, so you don't have to.
TEAM, SYNERGY, and RESULTS: How to Build your dream team, from leadership right through to the strategies for recruiting a solid team of highly motivated performers and then move into the next level of true entrepreneurship… freedom for you, the business owner. With this plan, every step will get you one step closer to your goals.