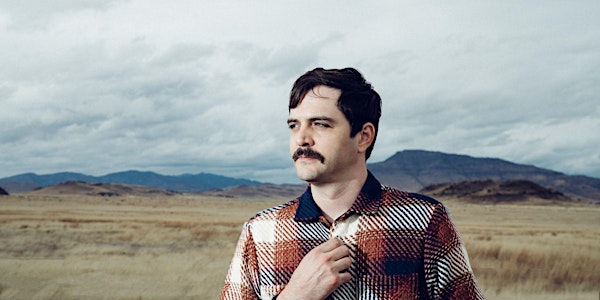 BAYONNE
ALL AGES
Popscene Presents
Popscene and Rickshaw Stop Presents BAYONNE + Jaws Of Love 8pm doors/all ages welcome
Date and time
June 3 · 8pm - June 4 · 12am PDT.
Location
Popscene @ Rickshaw Stop 155 Fell Street San Francisco, CA 94102
Performers
Headliners
More Performers
About this event
4 hours

ALL AGES

Mobile eTicket
Since his 2016 debut album Primitives, Bayonne has channeled his vast imagination into an elegant yet wildly experimental form of electronic pop, equal parts meditative and mesmerizing. In the making of his latest body of work, the Austin-based artist/producer/multi-instrumentalist otherwise known as Roger Sellers found himself in even greater need of an outlet for his kinetic creative impulses, thanks to an intense convergence of events in his personal life: his father's diagnosis with and eventual death from cancer, the end of a significant relationship, and an overwhelming struggle with depression and anxiety. Deeply informed by a deliberate transformation of his musical process, Bayonne's third full-length Temporary Time ultimately makes for his most expansive work to date—an album of both painfully raw introspection and otherworldly beauty.
The follow-up to 2019's Drastic Measures, Temporary Time intimately documents a period of psychic inertia experienced by Sellers in recent years. "The title of the record refers to that feeling of stagnancy that happens at certain moments in your life, where you're not sure what the next move is and feel sort of stuck in limbo," he explains. "I wrote these songs during a long stretch of self-development, mentally and emotionally and creatively, and in a way they're like a diary of everything I was going through." Although Sellers began working on Temporary Time in idyllic seclusion during a solo trip to West Texas, he soon immersed himself in close collaboration with a number of musicians and co-producers, including Danny Reisch (HAIM, Local Natives), Jon Joseph (BØRNS, Gothic Tropic), and longtime Bayonne drummer Matt Toman. Along with adding new depth and texture to Bayonne's signature sound—an immaculately layered and looping-heavy collision of lush guitar tones, frenetic synth lines, organic percussion, and more—that shift in approach led to significant growth in his strengths as a songwriter and lyricist. "Because of everything I was dealing with, especially with my dad's declining health, I ended up being much more thoughtful with the lyrical content than in previous records," Sellers points out.
Mixed by Sellers and Reisch, Temporary Time opens on the moody splendor of "Must Be True," a piano-driven and quietly piercing breakup song that instantly sets the tone for the album's dreamy contemplation. From there, Bayonne veers into the propulsive dark-pop of "Right Thing," one of several tracks featuring ghostlike samples of audio lifted from his family home movies. "One of the last good times I had with my father was playing him that song and showing him where his voice comes in," says Sellers, who describes "Right Thing" as a gloomy but upbeat reflection on uncertainty. "He was so excited to hear himself on the record, and that was a really meaningful moment for me." Next, on "Is It Time," Temporary Time drifts into a mood of lovely surrender—an effect achieved through the track's hypnotic arrangement of soaring vocals, gorgeously sprawling textures, and Toman's powerful full-kit drumming (an element Sellers lovingly refers to as "the best drums ever recorded"). "There's a point in the middle of the song where it feels flying, which to me represents the idea of freeing yourself from anxiety," he says. "It's about allowing yourself to take a dive, and to stop worrying about what's going to happen next." And on "Perfect," Bayonne delivers a radiant piece of alt-pop lit up in luminous beats, lilting background vocals from The Deer's Grace Rowland, and a sublime flute solo from Sellers's friend Walter Nichols (who also lends his spellbinding saxophone work to the track). "It's the most positive moment on the record, but a little satirical since it's hard for me to write positively sometimes," says Sellers. "In a way I'm almost making fun of myself for being so optimistic, even though it's still a feel-good song."
All throughout Temporary Time, Sellers embeds his songs with the kind of gloriously strange sonic details that have always defined Bayonne's music (e.g., the unearthly pedal-steel riffs of "FK," courtesy of Minnesota-based musician Aaron Fabbrini; the sweetly off-kilter Omnichord tones of the album-closing "Tabitha"). Originally from the Houston suburb of Spring, he took up piano and drums as a child and started writing his own material in high school, as well as self-recording with the help of his family's karaoke machine. By his early 20s he'd discovered minimalist composers like Steve Reich and Terry Reilly, which inspired him to infuse a certain atmospheric quality into his work. After putting out a handful of avant-folk-leaning projects under his own name, he adopted the Bayonne moniker in the mid-2010s and released Primitives to acclaim from major outlets like MOJO, who noted that the album merges "the celestial overlaid vocals of AnCo, Toro Y Moi's soaring gauzy electronic pop, the live, looping sample techniques of tUnE-yArDs and D.D. Dumbo, and even Steve Reich's shuddering, percussive experiments in repetition—with charming results."
While Bayonne mostly made his first two albums in solitude, the highly collaborative experience of creating Temporary Time ended up producing an unexpected but undeniably welcome effect: a return to the unbridled freedom of his earliest output. "I'd always been a little anxious about handing off my music to other people, but with this record it felt so amazing to get other people involved—it completely opened me up," says Sellers. "There were moments when it was difficult to write about what I was going through, but the whole process made me fall back in love with music again. I put everything I was feeling into it, and I hope it brings people some kind of comfort."
About the organizer
San Francisco's long-running weekly indie party Popscene showcases new and emerging artists each week and our resident DJs Aaron Axelsen and Omar spin the very best of indie, britpop, post-punk, electronic, synthpop and more. Popscene is every Friday at Rickshaw Stop, though we'll occasionally throw parties at other fine Bay Area venues, too. So yeah, come out and dance and check out some amazing new bands and DJs @ Popscene