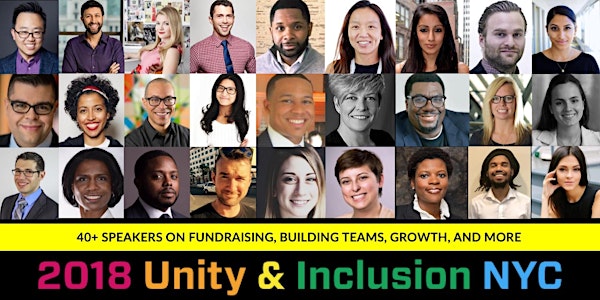 500 Startups Unity + Inclusion Summit (NYC)
When and where
Location
Galvanize 303 Spring St NYC, NY 10013
Refund Policy
Contact the organizer to request a refund.
Description

TICKETS AVAILABLE AT DOOR
500 Startups, one of the most global seed fund firms in the world, is proud to be partnering with Microsoft to present this jam-packed one-day event! Entrepreneurs, investors, and the tech community at large will come together to discuss the current state of diversity & inclusion in the industry, as well as how we can build for the future.
This event has a specific focus on fundraising, growth, and creating diverse workplaces and teams. Attendees will hear from top-tier founders, investors, corporate entities, and press to gain insight and learn tactics for building, investing in, and supporting inclusive startups!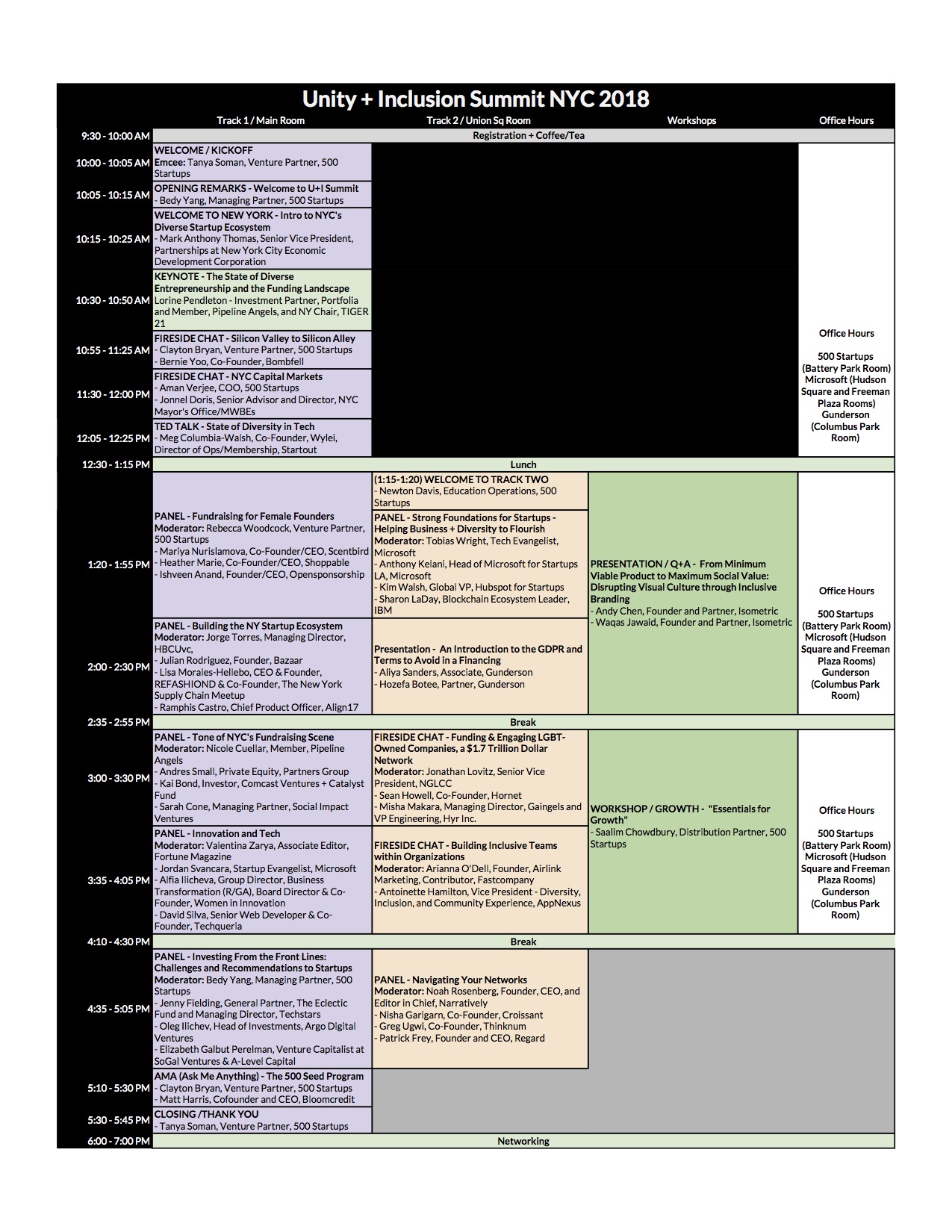 All Day:
1:1 Office Hours (must apply for slot)

---------
Event MC & Track 1:
Tanya Soman, Venture Partner, 500 Startups
Event MC Track 2:
Newton Davis, Education Operations, 500 Startups

9:30-10am:
Registration


10am-10:15am:
Opening Remarks
Bedy Yang, Managing Partner, 500 Startups
10:15-10:25am
Welcome to New York - Intro to NYC's Diverse Startup Ecosystem
Mark Anthony Thomas, Senior Vice President, Partnerships at New York City Economic Development Corporation
10:30-10:50am:
The State of Diverse Entrepreneurship and the Funding Landscape
Lorine Pendleton, Investment Partner, Portfolia and Member, Pipeline Angels, and NY Chair, TIGER 21

10:55-11:25am:
Silicon Valley to Silicon Alley
Clayton Bryan, Venture Partner, 500 Startups (moderator)
Bernie Yoo, Co-Founder, Bombfell
11:30am-12pm:
NYC Capital Markets
Aman Verjee, COO, 500 Startups (moderator)
Jonnel Doris, Senior Advisor and Director, NYC Mayor's Office/MWBEs
12:05-12:25pm:
State of Diversity in Tech
Meg Columbia-Walsh, Co-Founder, Wylei, Director of Ops/Membership, Startout


12:30-1:15pm:
Lunch


1:20-1:55pm:
Track 1 // Fundraising for Female Founders
Rebecca Woodcock, Venture Partner, 500 Startups (moderator)
Mariya Nurislamova, Co-Founder/CEO, Scentbird
Heather Marie, Co-Founder/CEO, Shoppable
Ishveen Anand, Founder/CEO, Opensponsorship

Track 2 // Strong Foundations for Startups for Business + Diversity to Flourish
Tobias Wright, Technical Evangelist, Microsoft (moderator)
Anthony Kelani, Technical Evangelist, Microsoft
Sharon LaDay, Blockchain Ecosystem Leader, IBM
Kim Walsh, Global Vice President, Hubspot for Startups
Track 3 // From Minimum Viable Product to Maximum Social Value: Disrupting Visual Culture through Inclusive Branding
Andy Chen, Partner, Isometric
Waqas Jawaid, Partner, Isometric
2:00-2:30pm:
Track 1 // Building the NY Startup Ecosystem
Jorge M. Torres, Managing Director, HBCUvc (Moderator)
Julian Rodriguez, Founder, Bazaar
Lisa Morales-Hellebo, CEO & Founder, REFASHIOND & Co-Founder, The New York Supply Chain Meetup
Ramphis Castro, Chief Product Officer, Align17
Track 2 // An Introduction to the GDPR and Terms to Avoid in a Financing
Aliya Sanders, Associate, Gunderson
Hozefa Botee, Partner, Gunderson


2:35-2:55pm:
Break


3:00-3:30pm:
Track 1 // Tone of NYC's Fundraising Scene
Nicole Cuellar, Member, Pipeline Angels
Andres Small, Private Equity, Partners Group
Kai Bond, Investor, Comcast Ventures + Catalyst Fund
Sarah Cone, Founder/Managing Partner, Social Impact Capital

Track 2 // Funding & Engaging LGBTQ-Owned Companies, a $1.7 Trillion Dollar Network
Jonathan Lovitz, Senior Vice President, National LGBT Chamber of Commerce (NGLCC)
Sean Howell, Co-Founder, Hornet
Misha Makara, Managing Director, Gaingels and VP Engineering, Hyr Inc.

Track 3 // WORKSHOP - Essentials for Growth
Saalim Chowdbury, Partner, 500 Startups


3:35-4:05pm:
Track 1 // Innovation and Tech
Valentina Zarya, Associate Editor, Fortune Magazine (moderator)
Jordan Svancara, Tech Evangelist, Microsoft
Alfia Ilicheva, Group Director, Business Transformation (R/GA), Board Director & Co-Founder (Women in Innovation)
David Silva, Senior Web Developer & Co-Founder, Techqueria

Track 2 // Building Inclusive Teams Within Organizations
Arianna O'Dell, Founder, Airlink Marketing and Contributor, FastCompany & Inc (Moderator)
Antoinette Hamilton, Vice President/Diversity, Inclusion, and Community Experience, AppNexus
Track 3 // WORKSHOP cont'd - Essentials for Growth
Saalim Chowdbury, Partner, 500 Startups
4:10-4:30pm:
Break

4:35-5:05pm
Track 1 // Investing from Front Lines, Challenges to Fundraising
Jenny Fielding, General Partner, The Eclectic Fund and Managing Director, Techstars
Oleg Ilichev, Head of Investments, Argo Digital Ventures
Bedy Yang, Managing Partner, 500 Startups
Elizabeth Galbut Perelman, Venture Capitalist, SoGal Ventures & A-Level Capital

Track 2 // Navigating Your Networks
Noah Rosenberg, Founder/CEO, Narratively (Moderator)
Nisha Garigarn, Co-Founder, Croissant
Greg Ugwi, Co-Founder, Thinknum
Patrick Frey, Founder/CEO, Regard

5:10-5:30pm:
Ask Me Anything (AMA) 500 Seed Program
Clayton Bryan, Venture Partner, 500 Startups
Matt Harris, Cofounder/CEO, BloomCredit


5:30-6:00pm:
Closing/Thanks
Tanya Soman, Venture Partner, 500 Startups

6:00-7:00pm:
Networking Reception

Who should attend?
Attendees will connect with VCs, founders, and get best practices dealing with diversity & inclusion. Entrepreneurs, future entrepreneurs, startups, venture funds, angel investors, and students are all welcome.



THANKS TO OUR EVENT PARTNERS!
Microsoft

's goal is to help startups grow their ideas by providing mentorship, technology, resources, and expertise to build global companies. Through the

Microsoft

BizSpark program, qualified startups can receive Azure cloud credits, free software and tools, and technical support. Learn more:

microsoft

.com/bizspark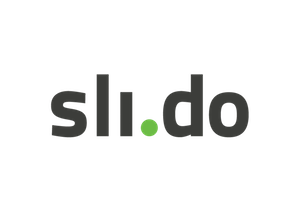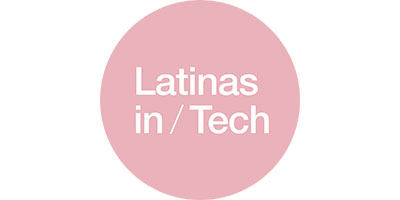 Past U+I Events:
500 Startups Unity & Inclusion Summit ATL:
Photos

More Information:
Interested in sponsoring?
Contact Jamie@500.co


Want to Volunteer to attend?
Other questions?
Email t@500.co


Accessibility:
If you have accessibility requests, please contact us.

Event Code of Conduct:
This event is dedicated to providing a harassment-free event experience for everyone, regardless of gender, gender identity and expression, age, sexual orientation, disability, physical appearance, body size, race, ethnicity, religion (or lack thereof), or technology choices. We do not tolerate harassment of event participants in any form. Sexual language and imagery is not appropriate for any event venue, including talks, workshops, parties, Twitter and other online media. Event participants violating these rules may be sanctioned or expelled from the event without a refund at the discretion of the event organizers.


Notice of Photography:
We will have stickers to indicate if you do not want to be photographed during the day.


Photos are for promotional materials only.
By entering these premises, you understand that you may be photographed, filmed, or videotaped and you hereby give 500 Startups the unqualified right to take pictures and/or recordings of you and grant the perpetual right to use your likeness, image, photo (collectively, "image"), without compensation, for broadcast or exhibition in any medium and to put the finished pictures/recordings to any legitimate use without limitation or reservation. You hereby waive, release and forever discharge 500 Startups from and against any and all claims or actions arising out of or resulting from any use of your image.


More 500 Startups:
500 Events | #500Diversity | 500 Newsletter



#500STRONG ANNUAL PARTNERS
Microsoft, IBM, SendGrid, WSGR, Heroku, Gunderson Dettmer, Pivotal