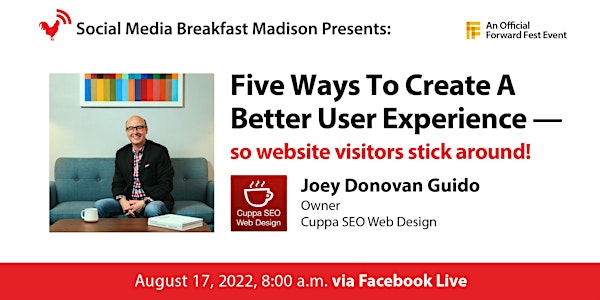 5 Ways To Create A Better User Experience- So Website Visitors Stick Around
**An Official 2022 Forward Fest Event** Improve user experience on your company site with tips from local expert, Joey Guido.
About this event
EVENT SUMMARY
Joey Donovan Guido, owner of Cuppa SEO Web Design, and author of A Holistic Guide to Online Marketing, will share five ways to improve the user experience on your website — including navigation do's and don'ts, homepage and subpage layouts, and the creation of effective calls-to-action. Joey will also talk about how to remove "noise" and distraction from your site.
KEY TAKEAWAYS
How to streamline your website navigation for a better user experience (UX).
How to identify and remove distraction (AKA, "noise") from your website.
Learn the "Introduction vs. the First Date," call-to-action philosophy for better engagement and conversion.
ABOUT OUR SPEAKER:
Joey Donovan Guido is the owner of Cuppa SEO Web Design, and author of the book, A Holistic Guide to Online Marketing. In addition to running his web design firm, he offers consulting services and engaging presentations based on the principles found in his book. He also hosts a podcast called, Getting Under the Surface. Joey is an expert in the areas of web design, SEO, user experience and website conversion.
TIME: 8:00 AM - 9:15AM
LOCATION: Virtual - LIVE on the Social Media Breakfast Facebook Page
SPONSORS:
Community Conservation Inc works directly with communities living in biodiversity hotspots all around the world. It brings enthusiasm and information to local residents, highlighting the uniqueness of their area's forests and wildlife, and then ask for the community's help in protecting them. The organization has been catalyzing and supporting community-based organizations since 1989, representing over 200 villages in 14 countries and protecting over 1.24 million acres. It focuses efforts on rare habitats and endangered species, including primates, cranes, tigers, and turtles.
Learn more about community-based conservation at communityconservation.org.
Also find them on social media: