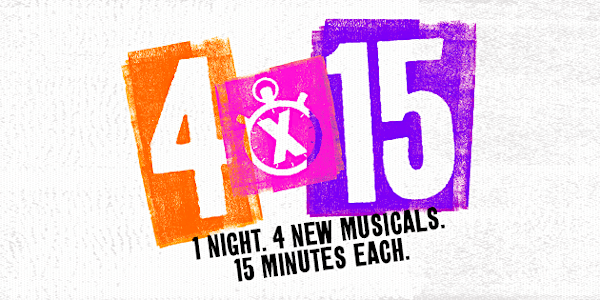 4x15: Round 30
The 4×15 Series showcases 15-minute staged segments from four new musicals. Each team receives 5 hours of rehearsal to workshop their piece.
When and where
Location
Musical Theatre Factory 440 Lafayette Street Robert Moss Theater New York, NY 10003
Refund Policy
Contact the organizer to request a refund.
Eventbrite's fee is nonrefundable.
About this event
Join us for the next round of 4×15! Four new musicals will present 15 minutes of fully-staged materials for a public audience. This is a great opportunity to see what development of these new projects looks like at an early stage, and to hear from the authors and creative teams about their developmental process!
Featuring:
Boleyn by Jessy & Steve Tomsko, Orchestration & Arrangements by Adam Kaufman
Boleyn is an original musical that tells the true story of Anne Boleyn - second wife to Henry VIII, mother to Elizabeth I, and first beheaded Queen of England. It is the story of a woman fighting for control of her own destiny against the patriarchy of government and religion, burdened with biology, paving the way for the future of feminism, and the legacy she left behind.
Directed by Mia Walker, Music Directed by Greg Good
With Jessica DeJong, Conor Ryan, Jane Bruce, Kurt Hellerich, Jonathan Christopher, Tonilyn Sideco, Judy Glad
Akira and the Merpeople by Claire Tran & Teresa Lotz
Akira & the Merpeople takes place in a world where there are merpeople trapped in human bodies. At night, from the ocean the liberated merpeople call out to these humans to come back to their true selves. Akira is a rebellious human teenager who has a punk band. Akira believes that she is actually a mermaid. But her mother, Hue, a Vietnamese refugee who came to the United States as a boat person, is keeping her from the ocean.
Directed by Cristina Angeles, Music Directed by Jessie Rosso
With Zina Ellis, Cathy Ang, Yinqing Zhao, Tonilyn Sideco, Sakile Lyles, Tanya De Leon, Jordan Tyson, Carl Hamad-Lipscombe
Femmebodies by Eamon Boylan
Femmebodys, or: the way we move is the way our bodies move, the way we walk each block. It is a mosaic of trans sisterhood, of solidarity, of a day in the life.
Directed by Eamon Boylan, Music Directed by Cynthia Meng
With L Morgan Lee, Marcos Ospina, Christen Apple, Gensis Collado, Adrian Baidoo
Model Citizens by Robert Lee Poole III & Haley Poole
San Francisco 1995. Polished Alyssa and her radical sister Haley challenge each other and the status quo over the course of a prep school Model United Nations Conference. Chaos ensues as assassinations, kidnapping, warfare and political espionage jeopardize the hierarchy, ruled by the delegate to the United States and his "allied power bro squad", forcing the sisters and the student body to reconsider what it means to be a Model Citizen.
Directed by Tabatha Gayle, Vocal Directed by Alexander Ronneburg, Music Directed by Cynthia Meng
With Iris Beaumier, Alexis Floyd, Aidan Triola, Julian Fadullon, Martavius Parrish, Johann George, Aaron Banes, Mitchell Turner, Liz Neitge, Sabrina Rudden, Rebekah Santiago, Daisy Carnelia, Ella Mora, Sarah Elizabeth Jensen, Jacob Wright