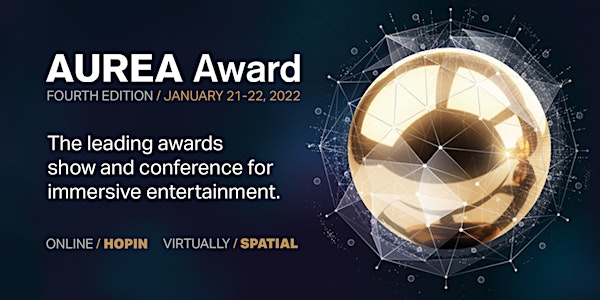 4th AUREA Award&Conference: Online and Virtual Event
The leading European conference and awards show in immersive entertainment.
About this event
This 2-day hybrid event brings together the most innovative creatives and thought-leaders in immersive entertainment to showcase the newest XR technologies, and serves as a forum for building personal connections.
The 4th AUREA Award will take place January 21-22, 2022. It will feature an online and virtual format, with live transmissions from Europa-Park, Europe's largest amusement park and organizing partner of the event.
At the event, creativity and innovation will take center stage for a global audience of VR & AR enthusiasts, professionals, and experts, with one of the world's leading theme parks – and an immersive tech and Location Based Entertainment (LBE) pioneer in its own right – as the backdrop.
In addition to showcasing the most exciting products and experiences, the conference features workshops and talks, as well as plenty of opportunities to connect with others. Here's what you'll be able to experience:
Discussion panels spanning between real and virtual worlds
Personal networking in online and VR environments
Selected finalists pitching their innovative products to a star-studded jury, who will also answer your questions
Live electronic music performance by Ain The Machine
And much, much more!
To explore the complete program, click here, or scroll to the bottom of the page.
AUREA Award is powered by Europea-Park, iconomy and betahausX.
If you have any questions or comments about the event, feel free to reach out to our communication manager and tech host at: thecommunity@betahaus.de.