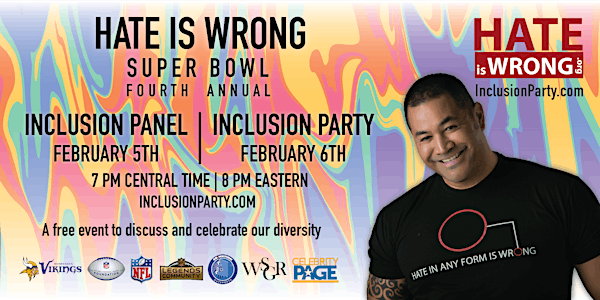 4th Annual Hate Is Wrong Super Bowl Inclusion Panel & Inclusion Party
You are invited to our 2nd Annual Super Bowl Inclusion Panel and 4th Annual Super Bowl Inclusion Party!
About this event
You are invited to our FREE 2nd Annual Super Bowl Inclusion Panel and 4th Annual Super Bowl Inclusion Party. A free event to discuss and celebrate diversity and inclusion.
The panel and the party have three objectives.
Improve the diversity, including LGBTQ+ diversity, in sports by bringing sporting people of all backgrounds together to provide much-needed representation to groups traditionally underrepresented in sports.
Help eliminate the bias surrounding the LGBTQ+ and sporting communities, including the implicit assumption people make that LGBTQ+ individuals are too weak and fragile to participate in sports.
Raise money for diversity-based and anti-bullying non-profits local to the city/state hosting the Super Bowl.
PANELISTS
Billy Bean, MLB Vice President and Ambassador for Inclusion
Tony Richardson, NFL Legends Community
Carley Knox, Minnesota Lynx (WNBA) Vice President
Barbara Roberts, former and first woman Governor of Oregon
Esera Tuaolo - Former NFL player and executive director of Hate is Wrong
Anne Doepner - Minnesota Vikings Director of Inclusion
Bonnie Thurston, WNBA's player programs, co-founder of NBA Pride Employee Resource Group
Barbara Roberts
ARTIST:
Hate is Wrong NFL Super Bowl Inclusion Party Date: February 6th Venue: Virtual Time: 5pm Pacific, 7pm central time, 8pm eastern
Shawn Hooks - https://youtu.be/SOrfUTkGo3c
Lillie McCloud - https://youtu.be/o3U4kxuBfIo
India Arie - https://youtu.be/Mq86e4Fhja0 ( NOT CONFIRMED)
Dave Mc Elroy - https://youtu.be/K57koCPUGg8
Tammie Brown Rupaul's Drag Race
Rajah Rupaul's Drag Race 7. Candice Cayenne 8
DJ Ryan
DJ Tie- Dye
FANTINE - https://youtu.be/HTT5CA4rugM
DJ Georgie Porgie - https://youtu.be/rFvaoSaDCqg8.
SPONSORS
NFL Foundation
NFL Legends
Minnesota Vikings -
Rugby Athletics
Celebrity Page
Wilson Sonsini Goodrich & Rosati
THIS IS A FREE EVENT!
SIGN UP NOW TO JOIN US!
Hate Is Wrong is a 501(c)(3) non-profit organization with a purpose is to foster diversity in sports and anti-bullying among youth.