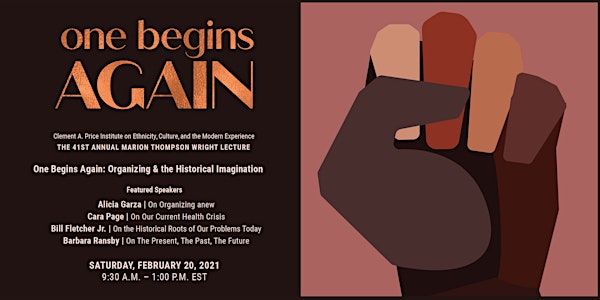 41st Annual Marion Thompson Wright Lecture Series
41st Annual Marion Thompson Wright Lecture Series
About this event
And when the dream was slaughtered...not everything is lost. Responsibility cannot be lost, it can only be abdicated. If one refuses abdication, one begins again.
— James Baldwin, Just Above My Head, 1979.
It is with great pleasure that we invite you to join us for the 41st Annual Marion Thompson Wright Lecture Series, One Begins Again: Organizing & the Historical Imagination, moderated by Barbara Ransby. The conference will be held online on Saturday, February 20, 2021 at 9:30 A.M. EST.
Alicia Garza, Bill Fletcher Jr., and Cara Page each in important ways, speak about organizing as a means to healing generations of society-wide injustice.
Each has devoted their lives to the work of organizing, understanding the conditions shaped by the past, and testing what works and what doesn't.
Each demonstrates how this invested, critical-practical work of understanding deep historical patterns help us reimagine the present to invest it with the possibilities of change.
Each envisions better, potential Americas, or in the words of Langston Hughes, "The land that never has been yet— And yet must be."
This forward-moving, liberating historical imagination is an act of aware, purpose-filled, enriched living in the here and now.
This visioning sparks ongoing movement building and the new possibilities for a life- and planet- sustaining near future.
How to join on the day of the conference:
When the conference is starting, please click on one of the following links below to join:
Facebook Live: https://www.facebook.com/priceinstitute/live/
Livestream: https://livestream.com/rutgersitv/mtw41
The Annual Marion Thompson Wright Lecture (MTW) series was co-founded in 1981 by Rutgers University-Newark Professor Clement A. Price and Giles R. Wright of the New Jersey Historical Commission, and the MTW Study Club, who launched the series with the conviction that understanding the historical context of racism would aid in organizing struggles building a beloved community and a better world. The conference is named in honor of East Orange native Marion Thompson Wright (1902-1962) the first black female to earn a history PhD-the focus was on "The Education of Negroes in New Jersey" (Columbia University, 1941). Her research helped the NAACP overturn the " but equal" doctrine in "Brown v. Board of Education". Later, she joined the faculty of Howard University where she was devoted to nurturing students. In her honor, the series brings outstanding thinkers and doers in African and African American life and history. Diverse, civically engaged, and devoted to life-long learners, the MTW Series is one of the nation's most distinguished and longest running lectures. The Clement A. Price Institute is devoted to building deep historical justice in our region and beyond.
Presented by The Clement A. Price Institute on Ethnicity, Culture, and the Modern Experience, the Federated Department of History, Rutgers University-Newark/New Jersey Institute of Technology; and the Department of African American and African Studies, Rutgers University-Newark
For questions and more information, please contact us at priceinstitute@newark.rutgers.edu or visit us at ethnicity.rutgers.edu