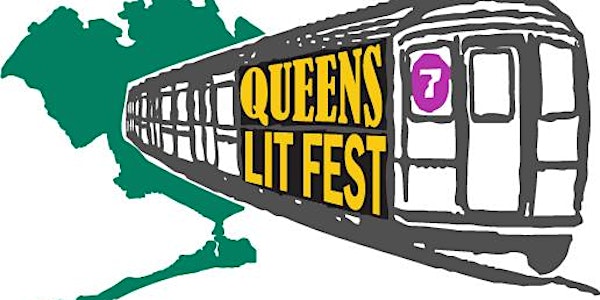 3rd Annual Queens Lit Fest - Poetry/Prose/Spoken Word @ LIC Landing - FREE
Location
LIC Landing by COFFEED
Hunters Point South Park
Queens, NY 11101
Description
InspiredWordNYC (InspiredWordNYC.com) in collaboration with the Hunters Point Parks Conservancy and COFFEED present a two-day summer weekend celebration of the literary arts community in the New York City borough of Queens - the 3rd annual Queens Lit Fest @ LIC Landing by COFFEED.
FREE & Open to the Public
7 Train subway to Vernon Boulevard-Jackson Avenue
*****
When: Saturday/Sunday, April 29-30, 2017
Time: 2-10pm each day
Where: LIC Landing by COFFEED
Hunters Point South Park
Long Island City, Queens, NY 11101
http://www.liclanding.com/

ALL Ages Welcome! Family Friendly! Kid friendly!
Admission: FREE
RSVP now! And please SHARE on social media with the hashtags #QueensLitFest, #QueensLitFest2017, #QLF2017, #QueensLitUnite, #100QueensPoetsAndWriters
Find us on Facebook, Twitter, and Instagrram @QueensLitFest

*****
Queens Lit Fest Organizers:
Mike Geffner, Queens Lit Fest Founder, Founder/Producer, Mike Geffner Presents The Inspired Word - http://inspiredwordnyc.com/
Megan DiBello, Assistant Producer, InspiredWordNYC
Mark Christie. President, Friends of Queens Library of Hunters Point
Mission: 1) to bridge the gap and bring together the diverse Queens literary arts community @ LIC Landing, a stunning symbol of the NEW Queens, in the heart of the borough's booming section of Long Island City and 2) to create a dynamic event that is unpretentious, all-inclusive, and filled with heart, soul, and love.
*****
The Progamming:
On the utterly gorgeous waterfront Long Island City space of LIC Landing, with its unfettered, breathtaking view of the Manhattan skyline, the 3rd Annual Queens Lit Fest will include a compelling two-day program of 100 showcased Queens-based poets and writers and several reading series, as well as two limited open mic portions each day and three musical interludes by top notch Queens musicians.
***Open mic slots are 4 minutes apiece and must be poetry, prose, or spoken word. NO MUSIC. NO PROFANITY (this is an open public place with kids and families). You can sign up for the open mic for FREE at the event site or secure the slot online for a $5 donation to keep people from gobbling up slots and not showing,***

Please support our efforts with any donation of $1 and up. It will be much appreciated. Anything $50 and up will be considered sponsorship. If you're a sponsor, we will place your name/business name on this page in the order of contribution (from highest to lowest), as well as share your generosity on our various social media channels (which reaches 50K+).
100% of donations/sponsorship dollars/open mic money will go to the featured artists.
*****
Hosts
Megan DiBello
Berry
Scott Raven
Kurt Nelson Peloquin
*****
2-2:30pm – Intro to Festival/Open Mic
2:30-3 – Poets/Writers Peter Marra, Norman Stock
3-3:20 – Mystery Writers of America/Queens Edition

(Alex Segura)
3:20-4 – Poet/Writers Safia Jama, Stephanie Laterza, Joan Becht Willette, Ron Kolm
4-4:20 – Open Mic
4:20-4:30 – Poet Richard Tayson
4:30-4:50 – Former Queens Poet Laureate Paolo Javier
4:50-5pm – Poet Linda Kleinbub
5-5:20 – Singer/Songwriter/Poet Tony Paternitii
5:20-6:30 – Poet/Writers Monica McClure, Kevin Anglade, Keisha-Gaye Anderson, Jeanann Verlee, Louie "KR.ONE" Gasparro, Sharon Lin (2017 NYC Youth Poet Laureate)
6:30-7 –

St. John's University,

Laguardia Community College

Poets/Writers (James Larkin, Danielle Rouse, Thomas Hill)
7-7:20 – Oh, Bernice Reading Series
7:30-7:50 – Katelyn Richards Band
7:50-8 – Writer Joe Okonkwo
8-8:30 – Poets/Writers Chelsea Whitton, Emily Heinz, Ryan Black
8:30-9:15 – InspiredWordNYC Series – Poets/Writer

Sweta Srivastava Vikram, Jennifer Harmon, Jonathan Cherlin, Kevin Marquez, Jae Hawley, Lucy Jun Chen
9:15-9:35 – Singer/Songwriter/Hip Hop Artist Billy Conahan
9:35-10 – End of the Day/Chill/Network
*****
Sunday, April 30
2-2:30pm – Intro to Festival/Open Mic
2:30-3 – Poets/Writers Tony Gloeggler, Gardenia SB, Luciann Berrios
3-3:30 – Queens Writers' Lab

(Mary Lannon, Nancy Agabian, Catherine Fletcher, Jared Harel, Meera Nair, and Sokunthary Svay)
3:30-4 –Poet/Writers Jack Feldstein, Reign Taylor, Joseph O. Legaspi
4-4:20 – Open Mic
4:20-4:30 – Poet Rosebud Ben-Oni
4:30-4:50 – Queens Poet Laureate Maria Lisella & Poet Gil Faglani of IAWA (Italian American Writers Association)
4:50-5pm – Poet Emily Alta Hockaday
5-5:20 – LTrain Band
5:20-5:30 – Poet Jackie Sherbow
5:30-5:50 – Bowery Poetry Club (

poets Tania Asnes and Sergio A. Gomez Diaz-Satelite)
5:50-6:30 – Poets/Writers I.S. Jones, Kelly Jean Fitzsimmons, Audrey Dimola
6:30-7 –

Queensborough Community College Poets/Writers (

Nathania Fields,

Francisco Lake)
7-7:30 – Poets/Writers Bill Shunn, Safiel Vonay, Rachel Lake
7:30-7:50 – Singer/Songwriter D.B. Rielly
7:50-8:30 – Poets/Writers Sherry Amatenstein, H.W. Vivian
8:30-9:15 – InspiredWordNYC Series – Poets/Writers Mara Lee Gilbert, Richie Alexandro, Keys Will, Lucy Torres, Alyssa D'Amico, Jessica Torres, Hailie Kim
9:15-9:35 – Singer/Songwriters Samantha Leon & Shako
9:35-10 – End of the Day/Chill/Network
*****
---
Sponsors/Partners
Barbara Etzel and Rob Basch
Poet Jennifer Cancel
Writer Yvonne Milewski
Teacher/Poet Kevin Marquez
Poet/Musician/Actor Tony Paterniti
Grace Raffaele
*****
Vendors
*****