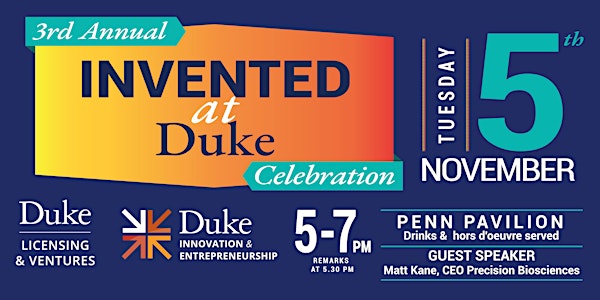 3rd Annual Invented at Duke Celebration
When and where
Location
Penn Pavilion 107 Union Drive Durham, NC 27710
Description
Co-hosted by Duke OLV & Duke I&E, Invented at Duke celebrates and promotes the diverse accomplishments of Duke innovators and entrepreneurs.
The event showcases select technologies, inventions, and novel ideas–illustrating the breadth of Duke discoveries–while also highlighting Duke's innovation and entrepreneurship resources and facilitating discussions among Duke inventors and the broader Duke community.
Join us to celebrate innovations coming out of Duke, learn about Duke's resources, and engage with inventors, the local investment community, alumni, Duke leadership, and researchers.
At 5:30 we'll hear special remarks from this year's guest speaker, Derek Jantz, CSO of Precision BioSciences, a recently-made-public company spun out of the School of Medicine. Precision uses a proprietary genome editing method called ARCUS to overcome cancers, cure genetic diseases, and create safer, more productive food sources.
If you're an inventor, entrepreneur, researcher, licensee, investor, or someone interested in partnering with Duke, we hope you'll join us for our 3rd Annual #InventedAtDuke Celebration.
---
Here's what you'll need to know for the day of the event.
WHEN: Tuesday, November 5th, from 5-7pm
WHERE: Penn Pavilion (next to the Student Store) 107 Union Dr. Durham, NC 27710
SPEAKER: Duke Inventor and CSO of Precision BioSciences, Derek Jantz will speak about his journey from start-up to going public at 5:30.
FOOD & DRINKS: Beer, Wine, Soft drinks, and light hors 'devours will be served. Please bring your ID if you would like to drink alcohol.
PARKING:
There will be FREE parking spots available in the Bryan Center parking garage. There will be attendants at both entrances to help direct you.
Alternatively, you can park near the JB Duke or park at the Washington Duke Inn. Both of these places will have shuttles running every 10 minutes to take you over to Penn Pavilion.
PLEASE NOTE: There is a Duke basketball game starting at 7pm, so we will not have access to the Card Gym Lot as we did last year.
SHUTTLE BUSES: Running continuously from the Washington Duke Inn and JB Duke Hotel to Penn Pavilion from 4:30-7:30pm.
---